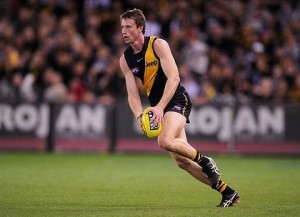 An uninterrupted pre-season is what every AFL player hopes for, but it takes on even greater significance for dependable Richmond defender Dylan Grimes, who has endured more than his fair share of injuries since debuting at senior level with the Tigers in the final home-and-away round of 2010.
Grimes was plagued with hamstring problems throughout his first three full seasons of league football, managing just 25 senior games.
He's had a much better run on the injury front over the past three seasons, playing 53 games, although he did miss five games early last year with another hamstring injury.
But, despite missing six games all-up during 2016, he still finished a career-high seventh in the Club's Jack Dyer Medal, underlining his overall value to the team.
And, with a strong pre-season so far, he's feeling in fine shape to take his game to an even higher level this year.
"It's been really good. Touchwood, I haven't had any injuries this pre-season and I'm feeling fit . . . running some good times and that sort of thing. So I'm really happy with where I'm at, physically, at the moment," Grimes told 'Roar Vision'.
"There are still a few things in my game that I'd like to tighten up before Round 1. There are always things you can work on, and this is the time where you put the effort in to bettering yourself as a player and the little deficiencies . . . Try to work on them as much as you can."
Grimes outlined what the focus has been for the Tigers' defensive group throughout the pre-season.
"The backs are just ticking away, as we normally do . . . We work on a lot of things pretty consistently. It becomes a repetition of spoiling technique, marking technique, and then a lot of the contest work as well," he said.
"Having said that, offensively this year, we've brought in some real speed, and some real good users coming out of the backline.
"We've seen Oleg Markov, what he can do, last year. Kamdyn McIntosh has been floating out of the backline, and in the midfield as well. He's a special player for us. Jayden Short is an exceptional user of the ball. And, we've brought in some real young talent in Ryan Garthwaite, who's showing some awesome signs of being a really good key-position player for us.
"As a group, probably the main focus for us is just to continue to build a really solid offensive foundation coming out of the backline, because we do turn over a lot of balls, with players like 'Rancey' (Alex Rance) and Dave (Astbury), who are turnover kings in getting possession back for us.
"Being able to get guys like Jayden (Short) and Tay (Taylor Hunt) and Oleg (Markov) involved on the way out, is always going to be a focus because they're such good users of the footy."
Grimes envisages taking on a similar on-field role in 2017 to what he did last year . . .
"A third tall, but can play on a small player as well," he said.
"With that, there's a lot of diversity in opposition . . .
"I kind of like it in my game that I can get a wide range of opponents because it always keeps you on your toes and playing good defence."
The 25-year-old also is keen to further develop his leadership skills at Tigerland.
"We had some strong leaders in the past retire, like 'Chappy' (Troy Chaplin) and Chris Newman . . . So the role of a middle-age player like Dave and myself, and guys like Tay Hunt, it forces us to come out of our shells, be a bit more of a leader around the Club, and support those more senior players like Rancey and 'Cotch' (Trent Cotchin), who do share a lot of the load of leadership on game-day," he said.