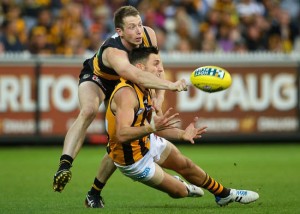 Amid the Tigers' recent achievement of back-to-back wins, defender Dylan Grimes quietly celebrated a career milestone.
The popular backman, who has been cruelled by injury, reached double figures in a season for the first time in his five years at Tigerland.
His previous best for a season was nine games, which he notched in 2012 and 2013, with foot and hamstring injuries stopping him in his tracks every time it looked like he was gaining momentum.
This season, he has played 11 of 15 games, missing just one match through injury – a minor toe complaint in Round 12.
"I really hope the injuries have past me," Grimes told RSN radio.
"My brother Jack at Melbourne had similar issues with hamstrings and feet and lower back, when he was a young player, and he seems to have come out of the woods with that sort of thing.
"I'm just hoping I trend the same way, and be able to put at least a couple of good seasons together."
Grimes, who turns 23 next week, has played 37 games to date, and kicked his first career goal in Round 15 this year, against St Kilda