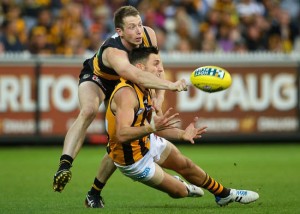 Dependable Richmond defender Dylan Grimes now fully appreciates the importance of completing a full pre-season at the game's highest level.
Grimes reaped the benefits of coming off his first uninterrupted pre-season in 2015, playing 18 games and securing a top-10 placing in the Tigers' Best and Fairest for the first time (he finished equal ninth).
"I'd never probably understood the level of impact that would have on me physically," Grimes told 'Roar Vision'.
"You always hear older players talk about it's time on legs, it's how many pre-seasons you've done, it's your training age.
"But you actually get there and you realise the physical gains that you get from completing a whole pre-season . . . Starting the season fresh, and playing 15-plus games of footy, the benefit you get from that is huge."
It's taken Grimes, who has managed only 63 senior games in his six-year AFL career due to a horror injury run (predominantly major hamstring problems), a while to regain confidence in his body to stand up to the rigors of league football.
Now that he has, it's a huge weight lifted off his shoulders . . .
"Personally, it was great just to have a year where I didn't have to worry about injury, and didn't have to invest all my time into just staying on the track," he said.
"I could spend that time, instead of on injury prevention, on getting better . . . becoming a better player and a better person.
"That was really refreshing, to be honest. Not playing catch-up, but being able to put a foot forward.
"My No. 1 focus for season 2016 is to replicate that . . . have a really unbroken pre-season and a solid off-season, and be ready to go Round 1."