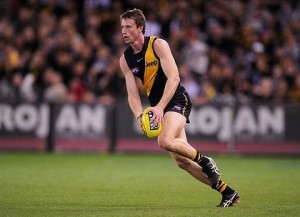 Most AFL players wouldn't think too much of achieving the modest tally of 10 games in a season.
For talented, young Richmond defender, Dylan Grimes, however, a wretched run with injury throughout his league career, meant he was both amazed and delighted to finally break through the double-figure games barrier, and string together 19 senior appearances in 2014.
Grimes, who made his senior debut with the Tigers in 2010, has endured long-term hamstring injuries, and a stress fracture in his foot, which sidelined him for half of the 2013 season.
Before this year, his body had allowed him to notch only 26 games in four extremely frustrating seasons of league football.
Thankfully, in season 2014, Grimes' luck finally changed, and he missed only two matches through injury.
"It's probably the first year I've played more than 10 games (in a season), in my whole footy career really, since I got drafted," Grimes told Roar Vision in a post-season interview.
"It was a dream come true to finally feel like an AFL footballer, and have an AFL footballer's body. Having that assurance to play at the highest level, consistently, and not get injured, is a pretty special feeling."
Grimes is fully aware of the growing depth within Richmond's backline and knows that to keep his spot, he needs to take his game to the next level.
"Dave Astbury is a star at AFL level, he can lock down the best opponents in the AFL industry, and also get the footy himself," he said.
"For me, it's going to be a real challenge to try and keep that spot from him. He's a pre-season beast, so it's going to be really tough early on."
After kicking the first goal of his AFL career in 2014, Grimes is now focusing on contributing more, offensively, to the Tigers in season 2015.
"For me to go to the next level, I think I need to be getting high teens in possessions, and getting our game up and going off half-back.