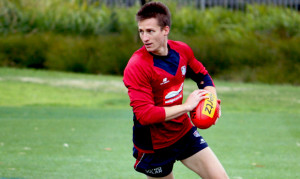 Jack Grimes admits he battled with the responsibility of being a first-time captain, but feels he is now better equipped to handle the pressure that comes with the job.
Melbourne named Grimes and teammate Nathan Jones as its co-captains for 2014 on Wednesday.
Jones begins in the role afresh this season, while Grimes retains his position after being handed the captaincy alongside Jack Trengove at the start of Mark Neeld's coaching tenure in 2012.
Grimes has already urged Jones to stay true to himself after realising he had lost his way as a young leader.
"Even though I still know I have a lot to work on with my leadership, I feel a lot more comfortable now because I'm just going to be me," Grimes told AFL.com.au.
"I'll keep developing myself but at the same time I'll always stay who I am and not try to be anyone else."
Grimes said that was not always the case, revealing the struggles he went through early in his captaincy stint.
"I was thinking more about what a captain should be," he said.
"I think I did put some pressure on myself to change and to be the image of the person that I had in my head.
"I battled with it early on. After every game I was just exhausted. I was over thinking things and my own game suffered."
With a fresh mindset, Grimes heads into 2014 with a clear head and a controlled approach to the captaincy.
Not one to allow himself to stagnate, Grimes is an avid reader and constantly brushes up on different leadership styles.
Educating himself on the human psyche is something Grimes sees as a valuable tool to improve his communication with teammates and coaches.
"I just like to learn a lot about how the mind works and what makes people tick," he said.
"I think a big key to leadership is knowing your teammates and knowing why they might do certain things."
Grimes is finally set to hit the home and away season in top shape, having trained fully through the Demons' pre-season campaign for the first time since he was drafted in 2007.
He will play primarily in defence in 2014, after discussions with Paul Roos about his intent to lock himself down in a consistent role.
With teammate Colin Garland in doubt for the start of the season, after having recent ankle surgery, Grimes' ability to marshal the backline will be critical to the Demons' hopes.
"I just really enjoy both sides of the game," he said. "It's been great having that continuity and I love the challenge of having a specific opponent, as well as running off and creating."