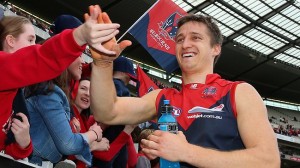 Melbourne defender Jack Grimes is still intent on leading the Demons in 2014.
Following his stint as co-captain the past two years, Grimes is considered one of the front-runners to skipper the club under new coach Paul Roos.
"I'm still keen to put my hand up for the job," Grimes said on Friday morning.
"I think we'll go through a bit of a process through Leading Teams, not sure when it'll be yet, but I guess leading in to the NAB Challenge the players and coaches will have their say."
That process will see the players voting teammates in to the club's leadership group, before the coaching staff nominates their preferred captain or captains.
It is tipped Roos – as he did during his coaching appointment at the Sydney Sydney Swans – will select two captains to lead the side, with an announcement expected to come by the end of February.
Roos was absent from training on Friday morning as he is still holidaying in Hawaii, but will be ready to go when the Demons launch into match practice training from next week.
Grimes and his Demons teammates did a gruelling 3km time trial around Melbourne's Princes Park on early Friday morning.
As is typical, Daniel Nicholson won the event ahead of key defender Tom McDonald and Rohan Bail. However, speedy forward Sam Blease was a little worse for wear.
"Bleasey's a renowned 'spewer'. Any hard running session and his breakfast comes up, that's pretty standard but it's a brutal test," Grimes said with a laugh.
The Demons had a key focus on incorporating running sessions within football specific drills in their training block leading up to Christmas.
Being able to transition run – offensively and defensively – is one of Roos' mantras and Grimes admitted the coach had tried to instil that mindset in to his players as soon as he arrived at the club.
With the Demons' opening NAB Challenge game just over a month away, match simulation is the next phase of the Demons' training plan.
"After Christmas with most teams it gets into the real serious footy stuff. You probably do a lot of breakdown drills up until Christmas and after you get all this testing period done you get in to the 18 v 18 sort of thing," Grimes said.
"I think now it's really trying to implement the breakdown drills in to a game like sense."