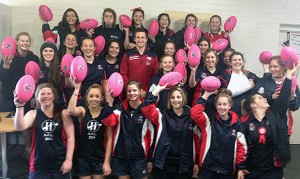 When Hallam Senior College planned a trip to Queensland for a girls' football round robin, young footballer Brittany Partington believed she would be unable to join her teammates.
With her mother Karen undergoing treatment for multiple sclerosis, the associated financial pressure meant the family could not afford to send Brittany along.
Then Melbourne co-captain Jack Grimes made a surprise visit to Hallam's Wednesday training session and presented Brittany with a $500 cheque, covering her costs for the September trip.
"It's amazing, we've been struggling a bit with Mum being sick," Brittany said.
"So being able to afford [to go to Queensland] and have a great time and play some footy, it's a great feeling."
Aware of the Partington family's situation, academy head coach Brett Alexander contacted the club regarding a donation.
Melbourne Football Club has a strong connection with Hallam Senior College through its partnership with the City of Casey.
The club is a long-term supporter of the school's football program, while Melbourne women's footballer and female ambassador Ellie Blackburn is a former Hallam student.
With many of the Hallam players involved in local Youth Girls football, Grimes talked to the group about his work as assistant coach of the Melbourne women's team.
He also had a special delivery for each of the girls: special pink branded footballs celebrating the club's involvement in the women's game.
"Melbourne are so supportive of women's footy," Brittany said.
"They'd do anything to help out and are always so forward with girls' football and wanting it to grow."