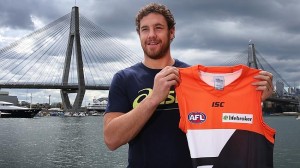 EX-SWAN Shane Mumford recently pledged to play out his AFL career at GWS.
Now he's just 61 matches from making the ultimate long-term investment in the future of the Giants.
Fiancée Eva is expecting the couple's first child in November — a baby boy — and the numbers have already been crunched on when the AFL's 100-game father and son rule will kick in for 'Son of Mummy' west of the ANZAC Bridge.
The superstar ruckman the Sydney Swans famously sacrificed in order to get Lance Franklin, is now committed to being a Giant for this life, and perhaps the next.
"Well let's hope so," Mumford says with a smirk.
"I've got to play another 60 something games to get the 100 mark so it means I've got to hang around a few more years yet."
And the 29-year-old certainly has the time.
Mumford has signed a two-year extension to keep him at the Giants until at least the end of 2018, and after getting a taste of life on the sidelines during last year's long-term injury lay-off — the big man wants to call Spotless Stadium his workplace for as long as his body will allow.
To leave the might of the Swans just a year after premiership glory as he did in 2013 and head to a Giants side at that time anchored to the bottom of the AFL ladder, required a significant leap of faith from Mumford.
But he never looked back and he's not about to now.
Mumford was motivated by the rare challenge to build a club from the ground up, and after years of sacrifice and empty seats, the Giants have finally created something special out west.
"It was never anything I was really worried about. I knew it was always going to be tough to start off with but the quality of players that were already at the club and with the guys who were coming across when I did, it wasn't going to be long until we were going to start pushing all the top sides which we've obviously started to do now," he said.
"Being part of something built from the start, was something I really (wanted).
"No one likes getting beaten, so it was always a bit tough. But each year we've built on what we did the year before.
"We know now if we play the way we want to, our game plan is set up so that we can win these big games."
For Mumford and the Giants, it doesn't get any bigger than the Swans.
There is no resentment towards his former club, but the fact is Mumford has arrived at little brother GWS because big brother Sydney made other plans.
But the thing now is with the Giants challenging for a top four finish — little brother has become a man.
"A lot of them were still kids. But they've changed over the past few years and actually turned into men," Mumford says.
"Their bodies have actually got to a decent size now.
"You could see they had some brilliance (in the early years) but it was boys against men.
"It's uncharted territories at the moment which is really nice (now it's an even battle).
"Any time you play against your old team you want to come out and play well. You're always going to come out a bit more fired up than you would any other week because you really do just want to perform well."
Mumford says the most telling sign of how the Giants-Swans rivalry has evolved — is the house full sign set to go up at Spotless Stadium for the first time this week.
"The rivalry I believe is built by the fans," he says.
"I was there in the days when there wasn't as many Giants supporters. Then it was always going to be hard for that rivalry to build.
"Now we're getting a good fan base here and in Canberra.
"Hopefully it will be full of orange around the stadium and no doubt a few red and white there as well."