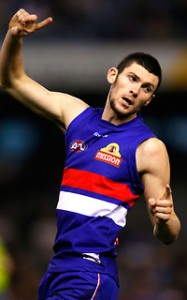 Western Bulldogs coach Brendan McCartney says Jarrad Grant is now ready for the rigours of an AFL career after the forward staked his claim to be a more permanent member of the Dogs' attack.
In only his third game of 2013, Grant kicked three goals, created several others and took six marks in a rounded, consistent performance in the Bulldogs' 22-point win over West Coast on Sunday.
McCartney described the effort as a "nice progression" on the 24-year-old's last two weeks in the side and said he always believed Grant would push through the lull that threatened to cut short his career.
"In my heart I've probably felt that there was still a lot more to give and a lot more to come out," McCartney said.
"Most players who I've worked with over the journey generally mentally mature when they physically mature, and can deal with the physical demands of the game. "
Grant's speed, marking and nous near goal added a different dynamic to the Dogs' attack. It seemed more dangerous when the ball moved in quickly, and he was threatening in the air and with the ball on the ground.
"The talent has always been there, the urgency hasn't been there at times," McCartney said.
"We're getting a bit more of a connection between the two and getting a good benefit out of it. I'm really happy for Jarrad, to be honest, and so are his teammates.
"He's a good kid around the club, he's popular, and we all want him to do well. He's helping us play good footy at the moment."
One of those pleased teammates was Luke Dahlhaus, himself a valuable contributor in the win with 29 disposals and four goals.
The small forward worked closely with Grant, and said the forward setup worked better with his influence.
"I've been there for three years and he's had a pretty tough three years. But he's been working hard and he's playing well at the moment so we're real proud of him," Dahlhaus said.
"He adds a bit of speed, and he leads hard. When he leads hard it makes other people move and creates space, and that's why he's in the team."