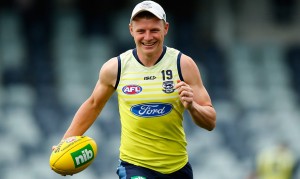 Geelong'S Taylor Hunt is set to spend more time in the backline this year as he strives to rebuild his confidence after a disappointing end to last season.
Playing as a run-with midfielder, Hunt began the Cats' 2013 campaign in blistering form.
His most eye-catching performance came in round three against Carlton, when he restricted Marc Murphy while pushing forward to boot three goals of his own.
But after missing a month of footy in the middle of the season due to a broken collarbone, Hunt was unable to reach those heights again.
His form was so patchy by the end of the year that he was not selected for Geelong's qualifying final against Fremantle.
Recalled for the following week's clash against Port Adelaide, he was then omitted for the preliminary final against Hawthorn.
"I definitely have a lot to prove this year after missing out on those finals," the 23-year-old, who has played 56 games since debuting in 2010, told AFL.com.au.
"There's a little bit of pressure on myself this year, because a lot of players are coming through.
"I know there are spots there in the team, but it's a matter of playing well enough to get one."
Hunt is reluctant to
use the broken collarbone as an excuse for his inconsistent form in the second half of last season.
"Looking back at it, I had been playing the best football I've ever played," he said. "I felt like I had finally proved to myself and a lot of other people that I was good enough.
"So the injury did come at a pretty bad time.
"The shoulder was fine when I came back. I came back in four weeks but it could have been three. That's how quick the turnaround is with those injuries.
"But I guess I lost a little bit of confidence. And there were a few other issues. I had a sore ankle as well."
Along with overcoming his injury problems over the summer, Hunt has been working on improving his ability to handle the stress that comes with playing elite sport.
"It's about not dwelling on mistakes," he said.
"I did some work with Joel Corey late last season, which really helped. He was working with me on keeping things simple.
"His advice was to just think of two key points that get me going for a game and leave it at
that."
As he eyes off the NAB Challenge and the start of the home and away season, Hunt is looking forward to a role change.
Having started his career as a small defender, he is set to once again become a regular fixture in the backline.
"I do enjoy all the roles I can play within the team," he said. "Some are a little bit more stressful than others.
"So I think I might play a little bit more down back this year, which will be good – a little bit more freedom.
"But I know there could be times when I'll be called on to play a lockdown role in the midfield, and I need to be ready to do that.
"I might be a little bit biased, but I think that is one of the toughest roles in the side. You rely so much on your teammates.
"It's great when the team is playing really well. It's tough when things are going against us."
SOURCE: http://www.afl.com.au/news/2014-02-04/hunt-heads-back-to-make-amends