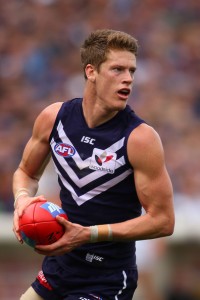 There are high hopes for Fremantle Docker Matt Taberner ahead of the 2016 season, but the imposing young forward isn't concerned with any perceived pressure or expectations.
"There's no pressure at all, I'll just be concentrating on improving," he said.
Taberner followed up his 2014 Beacon Award winning year by kicking 14 goals in 15 games in 2015, but insists there are parts of his game that need improvement.
"Adapting to the bigger bodies at the AFL level, and working more cohesively as a group in the forward line are two areas in particular I've been focusing on."
The decision of Matthew Pavlich to play on 2016 came as a welcome surprise to Taberner who acknowledged the great opportunity of learning under the Freo champion.
"It's a privilege having 'Pav' around for another year and I'm definitely not taking it for granted," he said.
"He's 34 and doing full pre-seasons with the rest of us and his attention to detail is second to none.
"I know I have to absorb as much as I can."
Taberner turned heads in front of goal in 2015, including an impressive three goal display against West Coast in round three, but highlighted that individual achievements aren't a priority.
"We've outlined as a forward group that improving our scoring ability by getting others involved and sharing it around, is very important."