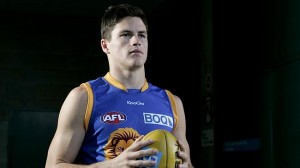 Jack Crisp was having a beer at the local footy pavilion in Myrtleford, celebrating his 21st birthday, when a couple of mates scrambled over with mobile phones in their hands.
"There was an article on their Facebook about me possibly being traded to Collingwood,'' Crisp said. "So I thought, 'What's going on here?'.
"I was a bit shocked, but I didn't stew on it too much because I was having a great night getting around the room catching up with everybody.''
When he woke up last Sunday, Crisp — feeling anything but — rang his manager Anthony McConville, who told him he was in the frame to be part of a complicated multi-club deal that would deliver Magpies midfielder Dayne Beams to the Brisbane Lions.
McConville advised Crisp to drive to Collingwood's Westpac Centre on Monday for a medical examination and to meet director of football Rodney Eade and list manager Derek Hine. That evening Crisp also spoke to Collingwood coach Nathan Buckley, who was holidaying in Bali.
Within 48 hours the paperwork was submitted and Crisp was officially a Magpie, much to the delight of his partner Mikayla, from a family of avid Pies supporters.
Hine said the 190cm left-footer would be a handy acquisition, with the versatility to play on any line.
"He just really provides us with some speed and size on the outside,'' Hine said.
Jon Ralph wraps up the AFL trade period
Crisp has just come off the best of his three seasons with the Lions, averaging 19 disposals a match over the final six rounds, including a career-high 22 in a 67-point win over Collingwood at the MCG.
But, coming out of contract, he was disappointed that the Lions were slow to offer him a two-year extension and asked McConville to "explore any opportunities down south''.
A former Vic Country U18s representative, Crisp clearly had been on The Pies' radar for several years. Collingwood was one of three clubs, along with the Lions and Hawthorn, who visited his Myrtleford home before the 2011 national draft.
Having spoken to 12 clubs, Crisp watched the draft — which was held in Sydney — on television at his uncle and aunty's house, and felt a knot in stomach as the picks started to reach the 90s and his name still had not been called out.
"It was pretty devastating,'' Crisp said. "Some people had me rated top 30 or 40 and all that sort of thing, so when it didn't happen I was pretty disappointed.''
He took off to schoolies week on the Gold Coast and on his return was invited to train with St Kilda. A few days later the Lions contracted him with pick 40 in the rookie draft.
"Early on it was a bit tough. I didn't know many people, apart from Pat Wearden, who I played with at the (Murray Bushrangers),'' Crisp said. "But I got into it and started enjoying it.''
After managing just 18 games for the Lions in three seasons, he is now desperate to prove himself a regular AFL player.
"I'm just looking forward to a bit of a fresh start I suppose,'' Crisp said. "A whole new footy team and environment.
"My first goal is to make the Round 1 team and then to take it from there.''
There will be a few familiar faces when Crisp reports for duty at the Westpac Centre this week. He played under-age football with Jamie Elliott and has had a fair bit to do with Ben Reid's family, who are from up the road in Bright.
In the meantime there is the more pressing challenge of heading down to Melbourne — a city where, he concedes, he has not spent much time — to look for a house and to drop in at his new football home on Wednesday for "a bit of media and to find out where I can park my car''.