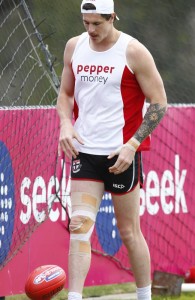 BANNED Saint Jake Carlisle plans to start working in construction as St Kilda, Essendon and the AFL near agreement on contract payments for 2016.
St Kilda paid Carlisle the first three months of his new deal, until he was banned by the Court of Arbitration for Sport for his involvement in his former club Essendon's 2012 supplements program.
The Saints have called on Essendon to stump up the remainder of his contract for this season.
The Saints, Essendon and the AFL have had discussions and a decision on who will pay, and how much, is expected by Friday.
Carlisle has been busying himself with weights and running during the early part of his enforced layoff and this month plans to start a work placement, possibly three to four days a week, in the construction industry.
"Jake and I have had lots of discussions about making the most of this year with the time that he'll have available," Carlisle's manager Anthony McConville told the Herald Sun.
"Outside of football Jake's interest is in construction management and building so that's an area he'll pursue beyond football and he's been presented with an opportunity. That's exciting for Jake."
McConville would not say if Carlisle would join the players expected to challenge the Court of Arbitration for Sport verdict at a Swiss court. Players must lodge documents by Wednesday.
The appeal won't affect this season's ban as the players have not applied for an injunction.
St Kilda coach Alan Richardson said the club would cope this season without its star recruit.
"The reality is with the age of (Sean) Dempster and (Sam) Fisher, he (Carlisle) and (Hugh) Goddard were going to be, and still will be, our key defenders for many years," Richardson said.
"It just means that we put that in park for 12 months. He's going to be a strong part of our backline for a long time.
"He's here for the long term. He's a person that's been brought to our footy club to be strong when we're really strong and, yes, we would rather have him this year.
"The reality is we don't and he'll be hopefully a better person and a better player for us next season."
Richardson did not begrudge the league's decision to deny the Saints an experienced top-up player to replace Carlisle, and said the club was happy to have an opportunity to upgrade a rookie from its list.
"I was probably more disappointed for the other footy clubs really," Richardson said. "That's possibly a reflection, right at the minute, that we're reasonably healthy and we don't see the need (for an experienced player).
"It made sense to me that the clubs would have the opportunity to bring another player on to your list. It gives a young person an opportunity."