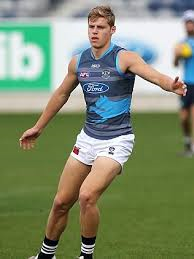 In the build-up, it was easy to think every facet of Saturday night came back to Adam Goodes. For all that Geelong had worked on how its people would respond, there also was the matter of basic footy logistics. Somebody had to play on him.
Chris Scott went for Jake Kolodjashnij, a veteran of four AFL games, to stand a man who'd played 365, won two Brownlow Medals and a couple of premierships. It was no risk-taker's roll of the dice.
"Jake played on Jake Stringer a few weeks ago – he may end up being a similar player to Adam Goodes, Jake Stringer … he could be anything," Scott said. The coach didn't labour on the disparity in their relative CVs, only the similarities in their games.
"I thought that was probably my best match-up personally," Kolodjashnij said of an assignment he suspected might fall his way, and which was confirmed by the Cats' coaching staff last Thursday.
Scott saw like-for-like in height (the Cat's 193cm to Swan's 191), exceptional mobility and speed. "They present challenges if you play talls on them at ground level, and the reverse if you play smalls on them."
And so when Goodes stationed himself in Sydney's forward 50, he was picked up by the twin of Gold Coast's Kade, products of Tasmania whose grandparents migrated to Australia from Soviet-controlled Ukraine after World War II. Adding extra pep to this dream Multicultural Round tale, the Kolodjashnijs turned 20 on Sunday.
Kolodjashnij shook Goodes' hand and wished him luck; he'd never met him but couldn't help but feel like he knew him already. If he was at all daunted it didn't show; he was composed from the outset, marking with a crisp self-assuredness that brought to mind Harry Taylor, and matching his famous foe at ground level.
"I'm not quite a mini-Harry Taylor," Kolodjashnij insisted of the comparison, flattered but adamant he's not in the same league of his exceptional teammate, who took 13 marks against the Swans. "(I've been) talking with the coaches about when to mark and when to spoil. There's a few times I backed myself in to go for marks – when they're there I go for them."
Goodes' enduring threat with ball in hand was underscored in the second quarter when he stormed through the middle of the ground, burning off no lesser speedster than Nakia Cockatoo. Yet when he tried the same on Kolodjashnij deep in the forward pocket when the Cats had the game safe he was run down, prompting the biggest cheer of the night.
"He fended me off nicely, I wasn't sure I was gunna catch him. But in the end, yeah, I was really pleased."
Kolodjashnij had engaged in discussions earlier in the week about how his man would be treated, the need to be hard-nosed yet respectful. "Especially Goodesy, what he's been through the last few weeks." He thought the crowd was exceptional.
"I was zoned in, I didn't really hear that much booing," he said, adding that there might have been the odd jeer when Goodes made mistakes, "but that just comes I reckon".
At the final siren they didn't cross paths; Kolodjashnij relished the experience, a "really hard contest, a hard game to play (against) a great player". He reckons Goodes got him "on a couple of hit-ups" (the Swan took three leading marks), left him with work to do on his positioning. But his 15 possessions, 10 of them contested, to Goodes' dozen betrayed that Kolodjashnij took the honours.
Scott said his young defender is yet to cement his place in the line-up, but Saturday night was "a step in the right direction against a really high quality opponent". To widespread relief, it was also a good story purely about footy.