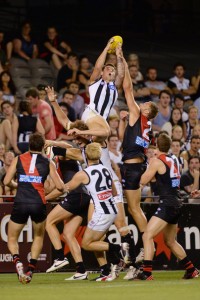 Chasing and laying a tackle on an AFL footballer is hard work.
Collingwood small forward Jamie Elliott is looking to make his mark in 2013. Picture: Wayne Ludbey Herald Sun
Doing it 15 times in a match is bloody tough.
But that epitomises Collingwood forward Jamie Elliott.
He's worked harder and done it tougher than most.
When your father dies in your first teenage year, and your brother nearly does when you are 16; when your footy dream looks to have passed you by and you get overlooked in the AFL draft; when you have another crack at the big time but break your collarbone after just a few weeks… it tends to put busting your gut on the footy field into perspective.
Jamie Elliott was 10 years old and living in Dongara, 370 kilometres north of Perth, when his father Gary was diagnosed with melanoma.
"Dad had driven across to visit family in Queensland and one night he was having a shower and he found a couple of lumps under his arms. He had them checked. It was skin cancer. It was spreading all through his lymph nodes.
"Mum and dad kept it pretty quiet for a while. I knew he was sick but it was only maybe a year or two later that I really found out how sick and began to understand. I can remember there were times when mum would get really upset late at night."
Jamie was 13 when his father passed away and he struggled to grasp what it all meant.
But just a few short years later he was forced to contemplate mortality once again.
By now his mother Fiona had moved her four children to Victoria to live with their grandmother Dorothy in Euroa.
It was Dorothy who answered the phone and went ashen-faced when the voice on the line told her that Jamie's older bother Matthew had wrapped his car around a tree and was lying in a coma in hospital.
"That was pretty tough. We went to visit him and he was lying there with all these tubes poking out everywhere, from his face and his body. It was something you never want to see," Elliott recalled.
"It feels like that was harder to deal with than my father. I was older, maybe 16, and I understood more and thought about it more."
After a few days the doctor raised the possibility of switching off the life support system. Fiona would not countenance the idea.
Matthew came out of the coma after 25 days but remained in hospital for weeks.
"He's actually really good now. There are a few things he has trouble with, his memory's not the best, but he's my brother and I just love having him around."
The experience scarred Elliott, though.
"I had to mature quicker than most other blokes," he said.
For a long time Elliott would not even entertain the idea of driving a car — "I feared the worst" — so it speaks volumes that he not only overcame the phobia but this year is contemplating spending his time away from football having lessons so that he might gain a helicopter licence.
Overcoming adversity has helped Elliott to tough it out on his football journey, as well.
He was overlooked in the 2010 AFL national draft but returned to play for the Murray Bushrangers as a top-age player.
"There was this realisation after not being picked up as an 18 year old and feeling I hadn't worked hard enough," he said.
"The people around me helped me to realise there's a lot of hard work goes into making it as a footy player."
Early in the 2011 season he was chosen to represent Vic Country, but upon returning from the U18 national championships he broke his collarbone in the Bushrangers' next match.
Rather than curse his luck he sought out a local trainer to help him come back stronger.
Three times a week Elliott would ride to work, then pedal his bike 10 kilometres out of town to the gym for rehabilitation, ride back to work and then head off to footy training.
Collingwood recognised his commitment, selecting him to play in two VFL games that season before securing him later in the year as part of a trade with Greater Western Sydney (in which Elliott, Marty Clarke and pick 67 headed south in exchange for pick 25 to the Giants).
The Pies coaches love what Elliott has brought to their team since.
Attributes like passion, hunger and defensive pressure.
"Billy", as he is known at the club, strung together 15 games in his debut season and in one of them — the Round 14 win against Fremantle at the MCG — he set a club record for the most "defensive indicators" or DIs.
"You get marks for tackles and one-percenters and that sort of thing," Elliott explained.
"It's just a pretty good indicator of your desire for the ball and for helping your teammates."
In the Dockers game Elliott's score was off the charts.
Forwards coach Matthew Lappin wandered up to him at the three-quarter time huddle and whispered:
"Ten tackles."
He told the youngster to keep going and he would spring for dinner.
By the final siren Elliott had almost doubled the previous club record for DIs.
"I've got no idea what that was," he said with a dismissive wave of his hand. Pressed about the score, a hint of a smile crept over his face before he sheepishly revealed "yeah, it was 70."
"I never consciously really thought about it in my junior days, but obviously Collingwood takes pride in defensive indicators and that's become a little strength of mine," he said proudly.
"Being my size you need it, you need to bring something to the team. You find something to really help you."
Lappin, who conceded he was yet to make good on the dinner offer, said Elliott had made the most of the opening created by injuries to smaller forwards such as Andrew Krakouer, Brent Macaffer and Alan Didak.
"We like the defensive elements of his game, but on top of that he's got some genuine offensive elements as well," Lappin said.
"And he's working hard to bring that good mix of attack and defence to our forward line.
"As he gets fitter and stronger and can sustain his efforts longer, he's going to become a valuable forward for us.
"He's predominantly a marking forward for us at the moment, and as we saw in the first NAB Cup match he can get off the ground for an overhead grab. But we need him to impact a little more at the drop of the ball."
Elliott has worked over the summer with development coach Craig McRae, a small forward in three Brisbane premiership teams, on his running patterns and crumbing skills.
Lappin, for one, believes Elliott is up to the task:
"We saw some really good quarters last year, and we want to see that translate to halves and three quarters and full games. It's hard to do as a small forward, it's a hard position to play. But that's what he's working on."
And judging by Elliott's background you would back him to work hard, tough it out and overcome the next challenge.