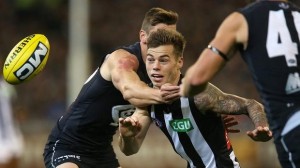 Kevin McFarlane's first-hand experience of Jamie Elliott amounts to just nine weeks, but is sufficient to convince him that Collingwood's exciting small forward possesses uncommon mettle. "If you're asking me can that kid get up a gear, can he change his game plan? I believe that kid can do anything."
Sitting on defenders' heads, running them down and hitting the scoreboard have helped boost Elliott's standing from good to very good and getting better in a season that has already reaped 17 goals. The Magpies see significant progress in building the "engine" needed to eventually go through the midfield. McFarlane has a catalogue of stories to illustrate that the 21-year-old will do whatever it takes.
Elliott arrived at McFarlane's farm outside Euroa on a rattly old bike with a shoulder in not much better nick, and little more than two months to get showroom-ready for the 2011 draft. His football with Murray Bushrangers had been eye-catching before a double break of his collarbone, but his running – particularly speed – needed to improve.
He told McFarlane – who in his farm-shed gym has trained and rehabilitated athletes and ordinary Joes, the disabled, children with scoliosis and obesity – that playing AFL football was his Plan A, and he had no Plan B. The mentor's last question was how they'd do all that was required in such a short time.
"He looked me straight in the eye and said, 'You tell me what I've gotta do and I'll do it.'"
As Elliott pounded a speedball to rebuild shoulder muscles and hone reflexes, McFarlane noted the power below the waist that launches that 178cm frame on to shoulders and lifts Magpie fans from their seats. He was building a footballer, but could see an elite basketballer or boxer at work.
At the local footy ground, they did shuttle runs, 200s and 400s. They took to dirt roads for three and six-kilometre gallops. Elliott was working at a farm on the other side of Euroa, and would ride that old bike more than 20 kilometres a day to get to McFarlane's and back home in time for Bushrangers' training or to work in his Mum's fish and chip shop. "Sometimes he ran out here, seven kilometres, worked with me, then ran back in time for footy training."
When he did a beep test a couple of weeks before the draft, a throng of locals cheered on the young man who'd lost his father to cancer when he was 13 and thought he'd lost his brother in a car accident too, only for Matthew Elliott to made good his mother's refusal of the doctors' wish to turn off his life support by pulling through. "A lot of people know the situation and wanted the kid to make it," McFarlane says. "I dunno where he would have ended up if he hadn't."
On reflection, he wishes he'd held back a couple of the six others he put up against Elliott in that beep test, and thrown them in halfway through to up the ante. "He blew it to bits."
Elliott's commitment to being not only the best he can, but better than the rest, was bald. Nic Naitanui held the draft camp vertical jump record, and he told McFarlane, "Well, I've gotta be able to jump higher than him." McFarlane replied that might get him up to the Eagle's navel.
But it was at Balmattum Hill overlooking town that Elliott gave his most telling performance. McFarlane has run many aspiring athletes up the one-kilometre climb he describes as "straight up … no walk in the park". He'd seen the mirage-like effect of the runner thinking he's almost there, only to realise there's another rise to come, then another.
"The blokes who pull up early, make excuses, say, 'I woulda shit that in if I knew it was only 40 metres more to the top', they're the ones who are going to have issues with hard work."
At the bottom, Elliott asked, "Am I supposed to beat you to the top?" McFarlane told him he wouldn't be playing AFL football if he couldn't. "I was 58 at the time."
Elliott ran straight to the top. "No problems with that kid, he wasn't stopping."
He virtually hasn't stopped since, Collingwood's forwards coach Matthew Lappin recalls being struck by the power in his small body from his earliest training sessions, the way he could get off opponents but also knew where to find space and had the speed to fill it. As a former spring-heeled forward who in maturity found a home across half-back with sporadic bursts in the middle, Lappin engages the conundrum of Elliott's long-term role.
"The game's not going to take away his ability to jump – we as coaches take it away a little bit because he's got some other requirements that he needs to fulfil in the team, like being at the front of the packs as well," Lappin says.
"But I think versatility's important. It's a tough position to play as the small forward, sometimes it can be hard to get into the game. To have that versatility that we can throw him up the field in different areas, it means you don't go a whole game without impact."
Lappin says Elliott is keen to get into the midfield (underscoring that desire for betterment), but while his pre-season testing pointed to significant gains in key areas, he'll have to wait his turn. "And I'm not going to let him go too easy."
He ticks a range of boxes when detailing his improvement, including staying in the game longer and kicking better and with more accuracy. These complement the defensive intensity and highlight reel aerobatics that have been there from the outset. "In a nutshell he's just more rounded."
McFarlane's free-for-all gym has virtually wound up, a victim of red tape. Elliott was his 105th student over 35 years, and one of his favourites. "There's a lot of instances where kids do it tough, but this kid's mindset, he's got a special ingredient. He deserves everything he gets and more."
Read more: http://www.theage.com.au/afl/afl-news/jamie-elliotts-iron-will-to-be-and-beat-the-best-20140514-zrchs.html#ixzz3282kiWIZ