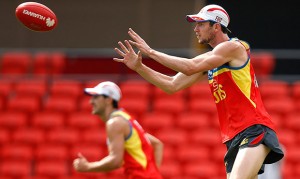 JARRAD Grant admits his breakthrough performance for the Suns has to be his "baseline" going forward at the Gold Coast AFL club.
Grant's effort against Fremantle last Saturday was his best for the Suns since joining the club at the start of the year from the Western Bulldogs.
The mobile forward booted two goals to go with his 15 ­possessions.
At the same time his defensive pressure added to what was a solid team performance from the Gold Coast.
It also marked Grant's first win with his new club.
After struggling with injury and consistency since his arrival at the Gold Coast, the 27-year-old said he was relieved and that he had to keep this level of play up going forward.
"It was probably the best I've played for the club in terms of the AFL team," Grant told the Bulletin.
"I've struggled a little bit with consistency coming into a new team but that performance needs to be a baseline for not only the rest of this year but next year as well.
"I'm just starting to find my feet a little bit with my position and the guys around me as well.
"I have just got to use the game on the weekend as a base and try and play similar to that.
"Every game will be different but I want to hold the same standard as that and get more wins on the board for the team and the club.
"That is only one week. The best players are able to do it on a consistent basis. We have got five (games) left and I'm looking forward to being involved in those five."
Grant enjoyed a solid preseason campaign here on the Gold Coast.
However, he broke his wrist while cycling and missed the entire NAB Challenge, giving him little chance to build any cohesion with his teammates.
He forced his way into the side by Round 5 and played five straight games before a hamstring injury sidelined him again.
But Grant forced his way back into the AFL side on the back of some good form in the NEAFL for the club's reserves and some injuries to other players and is confident of making an impact in the final stages of the season.
Suns coach Rodney Eade said when Grant was recruited that the forward provided the Suns with a "different" type of player to anyone else on their current list.