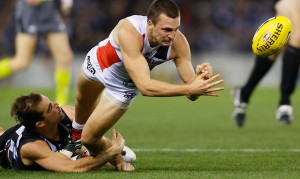 JARRYN Geary had his best season at St Kilda in 2013, forging a niche at half-back and also demonstrating versatility as a run-with midfielder.
His consistent form was rewarded with a career-best fourth-place finish in the best and fairest, capping off a season in which Geary averaged 17.6 disposals per game and played 21 from a possible 22 matches.
The 25-year-old has established himself as a leader within the club, and sets an excellent standard with his ferocious attack on the ball and tireless work-rate.
Defensive coach Danny Sexton:
"Jarryn had another very solid season. He provided some great defence and was rarely beaten. He got a lot of the ball and also provided great leadership around the club. He's great with the younger players and sets the example for them to follow.
You can trust Jarryn to provide effort and to shut players down and we saw this when he played on Marc
Murphy from Carlton and Dangerfield from Adelaide and did an excellent job."
STATS CENTRE
7th at St Kilda for total kicks
7th at St Kilda for total handballs
8th at St Kilda for total disposals
6th at St Kilda for total marks
6th at St Kilda for total tackles
3rd at St Kilda for one percenters
4th at St Kilda for running bounces