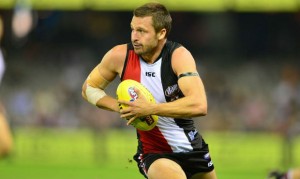 ST KILDA tough nut Jarryn Geary has been backed to take over as captain and help lead the club into finals next season.
Former key defender Sam Fisher on Wednesday said Geary, 28, held universal respect among the players and coaches and was one of the most vocal and approachable leaders at the club.
Midfielders Jack Newnes and David Armitage are also in the running to replace superstar goalkickier Nick Riewoldt after 11 years in the role.
Riewoldt's reign is the longest stint as skipper in the club's history, but the champion Saint confirmed last year he would step down this season.
Fisher, who played 228 games over 13 seasons at St Kilda, said the low-profile but hardworking Geary was ready to accept the top job, as the Saints attempt to break their six year finals drought in 2017.
"He (Geary) is an outstanding candidate," Fisher told the Herald Sun.
"Behind-the-scenes at the club he is a natural speaker in front of the group and he has really grown in that aspect in the last couple of years.
"He's very good at giving feedback to people, whether it is the really direct or uncomfortable stuff, he can do that.
"And I think he has a great relationship with all people from the club, on all levels, because you see him one minute with Nick Riewoldt and the next minute he is with the youngest person at the club joking around or helping.
"So he has that communication, respect and rapport among all people."
A small defender, Geary — a former rookie (pick No.58) who was elevated to the senior list in 2007 — finished second in the best and fairest last season and again presented in immaculate condition upon his return to training last week, winning the Saints' 3km time trial.
"The way he works so hard on the training track and in games is second to none," Fisher said.
"His preparation is outstanding and he is one who gets the best out of himself every session.
"He's the natural fit (as captain) I always thought they (coaches) would go for."
The Saints are widely expected to challenge strongly for the eight this year after adding Western Bulldogs' ballwinner Koby Stevens to their emerging midfield and ex-Collingwood vice-captain Nathan Brown to a key defensive post.
Former speedy Collingwood midfielder Nathan Freeman and ex-Bomber Jake Carlisle are also eyeing Round 1 berths against Melbourne at Etihad Stadium.
Fisher said Carlisle and Brown, in particular, would add some of the size the club had been missing down back in recent years.
The club last played finals in 2011, following its drawn Grand Final heartbreak against Collingwood the year before.
"As much as I've tried to do it over the last few years, we've always lacked that really big-bodied defender to play deep," he said.
"So, as much as I used to hate it, I just wish that I had have been there this year to play alongside those guys.
"They just add that layer of depth and there's no reason why a team like St Kilda can't jump right up, because they have been tracking in the right direction over the last couple of years.
"I think they can make that steep improvement up to the top there somewhere."