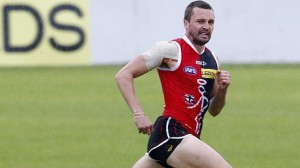 St Kilda coach Alan Richardson expects Jarryn Geary to flourish in his second year as captain as the importance of his leadership grows following the retirements of Nick Riewoldt, Leigh Montagna and Sean Dempster.
The Saints' coach spent the first week of the pre-season in Darwin with the leadership group including Geary, Seb Ross, Josh Bruce and Dylan Roberton as well as local youngster Ben Long to train and discuss some of the values the club should adhere to in 2018.
He said it was a great platform for the players to launch their pre-season.
Although the Saints are yet to officially elect their leadership group for 2018, Richardson has little doubt Geary will once again be captain.
"That would certainly be my want," Richardson told the Saints' website's Inside St Kilda podcast.
Although the 29-year-old performed well, Richardson said it would have been natural for Geary to hold himself back a little in his first year in the job with Riewoldt and Montagna still at the club.
He said that "now he is the man" he thought Geary would be even better.
"He's an impressive person and we're rapt he's our skipper."
Richardson spent time in the off-season with the All Blacks in New Zealand ahead of a test against South Africa before walking the Kokoda Trail with his family.
He then headed to Darwin when the senior players returned to pre-season in an attempt to set the tone for what looms as a season of high expectations for the Saints.
"There is a bit of a line in the sand moment, with these great players having moved on … how do we want our footy club to look and what does it mean to play for the Saints?" Richardson said.
"That was brilliant to be able to get away and have those conversations."