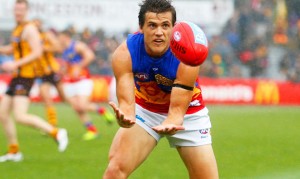 JED Adcock says he was shocked and disappointed when told there was no place for him in Brisbane's first-choice side next season.
The former Lions captain has no plans to retire and says he still has the utmost respect for senior coach Justin Leppitsch, who delivered the marching orders last month.
Adcock, 29, will play his 206th and final senior game for Brisbane when the Lions host the finals-bound Western Bulldogs at the Gabba.
The defender, who made his AFL debut in 2004, understands Brisbane's desire to get games into young players and predicts a bright future for the club.
"I was shocked at first and I probably questioned the club's decision a little bit because I felt like I was still in the best 22,'' Adcock said.
"It was a hard conversation to have with Leppa. It was always going to be tough to be on the receiving end of that discussion.
"The reality of footy sometimes is that you have to move on when you think you are not quite ready.
"I totally get where the club is coming from. They've got to start pushing the youth through and it's an opportunity to continue my career elsewhere.
"It's pretty mixed emotions at the moment. It's a sad time because I've been here for 12 years and this place has been a big part of my life.
"The club has been great to me and my family, I've made some fantastic friends along the way and it was an honour to captain the club and play alongside some outstanding people.''
Adcock will go on the free agency market next month and hopes to eventually enter the coaching ranks
"I'm only 29 and I feel like I've got some really good footy in front of me. I feel like I've got plenty to offer a club with my experience and leadership as well,'' he said.
"I've got a really big passion for coaching and hopefully I can transition into a coaching role after another one or two more years of running around trying to get a kick.''
Despite Brisbane being engulfed by speculation of player unrest, Adcock said the Lions will be "primed'' for a finals assault in the near future.
"This is a really tight-knit playing group who are fully focused on winning games of footy. They understand and appreciate what the club is doing and the direction it is trying to head,'' he said.
"The talent here is really good. In two, three years, they'll have a side capable of playing finals.''
Adcock said he and Leppitsch remain on good terms.
"I've known Leppa since I first got to the club and we played alongside each other. I considered him my mentor and he was also an assistant coach here when I played arguably my best season of footy in 2007,'' he said.
"We are fine. I respect Leppa for being honest with me and having that tough conversation with me.''