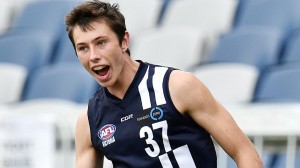 The 2016 draft class will long be remembered as one with a distinct local flavour for the Cats, which is a good thing for rookie Jack Henry.
The 18-year-old Geelong local was selected with the Cats' first selection in last month's rookie draft and says he feels right at home at Simonds Stadium.
"I've watched plenty of games here. I've been to all three of the grand final wins," Henry told Cats Media.
"It's a bit surreal, running around with some of your idols [you] grew up watching."
A former decathlete at national level who stands at 191 centimetres, Henry's improvement in a short period of time shows he has tremendous upside.
But having only made the switch to football this year, he admits there Is a lot of work ahead to carve out a successful AFL career.
"I'm not the perfect player so I can definitely work on a lot of things. Skills I can improve, the gym work and strength, I'll definitely get better," Henry said.
"I think I'm a fairly dynamic kind of player and hopefully develop into a nice half forward or even higher up on the wing hopefully. Give that run and athleticism and jumping and marking option for the Cats in the coming years."
"I'm sure I'll hopefully learn and get a bit more experience along the way."