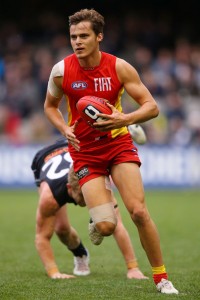 THERE has always been a sense of destiny when it comes to Kade Kolodjashnij and the Suns.
It was why his new two- year deal that will keep him at the club until the end of 2018, and has the potential to earn him about $1m, was one of the easiest list manager Scott Clayton has negotiated.
"I love the club and I love the gold coast, it was a no-brainer, it has been a perfect fit for me,'' Kolodjashnij said.
The 20-year-old is bankable, he misses games as rarely as he misses targets.
He has played 40 of a possible 44 games and his disposal efficiency of 75 per cent, for a player who averages 23 touches a game is exceptional.
His decision making off the field is just as reliable.
While some of his peers made some dumb choices in their early years at the club Kolodjashnij settled-in, bought a house and his dedication to his footy is reflected in his durability.
"I have been lucky with injuries, but I think it comes down to professionalism and that is doing the extras, the things away from the clubs that no one sees,'' he said.
"I am only 20 and I have got a lot to learn, I will have ups and downs during my career, but I am determined they won't be from a lack of hard work.''
Kolodjashnij is in the side picked for Saturday's final NAB Challenge game but has a tight calf and may be a late withdrawal.
Although he was quietly spoken when he arrived, and is still far from an extrovert, the standards Kolodjashnij expects from himself are starting to influence those around him.
"I am just going about my business, but I have heard that said and it is flattering,'' he said.
"I'm a determined person, I am here to play finals, not just to make up the numbers.
"I just want continued improvement and if we all strive for that, success won't be far away.''
Clayton banked his reputation and the club's first pick in the 2013 draft on the unheralded Tasmanian.
Kolodjashnij was considered a draft gamble Clayton stunned the football world by selecting him with pick five when most pundits had him somewhere in the late-teens.
But Clayton, had never been more sure.
He knew he'd found his man when Kolodjashnij was 16, before his Under 18s season a full twelve months out from the draft – long before Clayton knew where the Suns would finish that season.
"He is highly skilled, he will run all day, he is courageous and he is extremely coachable, he is just a beauty,'' he said.
"And durable players are worth more than players that are not, and he plays every week.''