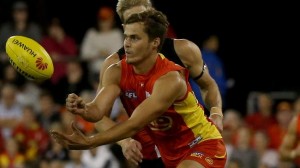 GOLD Coast defender Kade Kolodjashnij says his ­confidence has returned as he looks to put a disappointing 2016 behind him and reach ­career-best form this season.
Kolodjashnij said he finally felt like he had shaken the ­inconsistency that crept into his game for the first time last year during a season interrupted by injury and illness.
It follows a strong pre-­season by the half-back capped by an impressive display in the team's first JLT Community Series game against the Brisbane Lions last Sunday.
Kolodjashnij collected 19 possessions and was the second cleanest ball user for the Gold Coast, hitting his targets 94.7 per cent of the time as some of his teammates were still ­showing signs of rust.
The 21-year-old said he could feel the difference in his game already as he looks to return to his status as one of the club's most reliable ball users.
"It's good to get that continuity because I didn't really have it last year," Kolodjashnij said. "I was sort of in and out with that illness and getting knocked out as well.
"I have had a pretty good pre-season and I've got that confidence again so I just need to keep building on that now and hopefully I can have a good year and get back to my best form."
Kolodjashnij said the team's 24-point win against Brisbane provided a chance to blow out the cobwebs after months without official games but that it set the two clubs up for an exciting Round 1 QClash opener on March 25.
"There were a few mistakes and there are a few areas to fix up," Kolodjashnij said. "It was only the first game back in a few months but definitely set the standard and hopefully we can knock them off in Round 1 and get another win."
Kolodjashnij said the team's focus had shifted to this Sunday's game against Essendon in Mackay following the Bombers' 11-point loss to Collingwood last weekend.
"It's going to be interesting because there are a few new faces and their banned players are coming back," Kolodjashnij said.
"They will be keen to have a good showing on the weekend so it would be good to get to Mackay and hopefully conditions aren't too hot.
"I'm looking forward to playing against good quality opposition and continue to build on form individually and as a team as well."