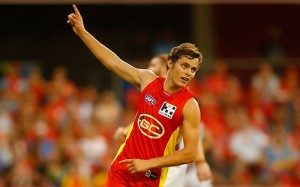 The notion of second season blues have been in vogue in recent seasons, with young guns brought crashing back down to earth following dazzling debut seasons.
Gold Coast SUNS rebounding defender Kade Kolodjashnij is determined not to fall victim to this fashionable curse. The Tasmanian has put together a strong pre-season at Metricon Stadium to ensure he builds on his first year in the AFL.
The 19-year-old played 18 games in 2014, averaging 17 classy possessions per game coming off a half-back flank – to finish fifth in the NAB Rising Star award.
Ahead of his second season on the Gold Coast, Kolodjashnij is confident he will prove the second-year blues are nothing but a fallacy.
"I reckon I'll actually be better off in my second year," Kolodjashnij told the Gold Coast Bulletin.
"I got so much experience playing 18 games in my first year. It was great for me and put me in good stead because I've had a pretty good pre-season so far."
The 2013 No. 5 draft pick has identified paying more attention to detail in order to improve his game this season.
Kolodjashnij explained dotting his i's and crossing his t's with his recovery and preparation were two areas of his football that he needed to improve to take his game to the next level.
"I dropped off (late in the season). My body wasn't pulling up as well as what it was earlier on in the year," Kolodjashnij said.
"I was definitely lacking recovery and that and preparation is going to be so massive this year."