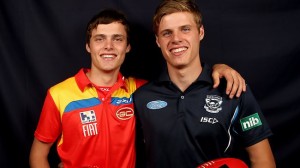 Kolodjashnij twins Kade (Gold Coast) and Jake (Geelong) were selected in the 2013 AFL Draft.
Kade Kolodjashnij became Tasmania's highest AFL draft selection in 17 years last night and then had his brother join him in the big time.
Tasmania produced a stunning six draftees, led by Kolodjashnij who was taken pick five by the Gold Coast Suns.
"It hasn't sunk in to be honest, I'm pretty shocked to be honest — I still can't believe it. It is unreal," Kade said.
His twin brother Jake is off to Geelong, which took him at No. 41, after a nervous wait for the brothers, who had hoped the Suns would also select the key defender with pick at 27.
Kade said it was harder waiting for Jake's name than listening for his own.
"I thought he was a good chance of going so I wasn't too worried, but when it got to past pick 30 I was getting worried for Jake," he said.
"Going to the Gold Coast as well would have been a dream come true but obviously he's at Geelong now and I'm just thrilled for him."
It will be the first time the twins from Launceston have ever been separated, but that is life in the big time.
"It will be pretty tough to start with because we are not used to it," Kade said.
"But once we get to the club and get to know all the players and coaches, I reckon we'll be fine."
Kade is the highest-selected Tasmanian in the draft since Daniel McAllister was taken with the same pick in 1996 by Essendon.