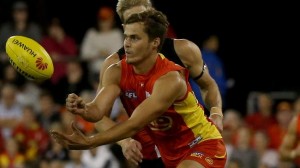 GOLD Coast defender Kade Kolodjashnij is sporting a new look this pre-season and says it could be here to stay.
Kolodjashnij has returned to preseason training early and has been wearing a helmet as he makes his way back from the concussion problems that kept him to just 11 games in 2017.
Only Gold Coast's first to four year players were required back at training this week but Kolodjashnij and Sam Day both chose to come back early after working their way back from injury.
Kolodjashnij said he would trial the helmet over the pre-season and would consider using it in the 2018 AFL season.
"I'll definitely consider using it next year. At the moment I'll wear it all pre-season probably and re-access after that. If it works in pre-season I'll go on to wear it in the games."
Kolodjashnij said he wanted to put a frustrating 2017 season — that ended after the club's Round 13 game against Carlton — behind him.
"It was really frustrating for me last season so it's just so good to be back with the boys and not on the sideline by yourself doing your own training," Kolodjashnij said.
"It's good to be back in that atmosphere with the boys.
"I'm pretty keen to put that behind me now and have a good pre-season and get my body right."
Kolodjashnij has been given the green light to participate in all training exercises and will fly to Melbourne in the coming month to have another check up with his doctor.
The Tasmanian's twin brother Jake — who re-signed with Geelong earlier this year — was among the names speculated to be involved in the trade between the Cats and Gold Coast for Gary Ablett.
Kolodjashnij said he knew Jake was never bound for Queensland but revealed he did try to convince him to make the switch before he penned a new deal with Geelong.
"We had a conversation around that," Kolodjashnij said.
"I sold (Gold Coast) to him. I said we are a really exciting team and starting to get things off the field right.
"He had a good listen but it's hard to leave a club when they have treated you really well.
"It would be nice to play with each other but at this point in time we can't do it. We will see what happens later on."