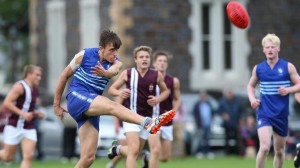 LIAM Mackie's family headed into Mamma Carmela's in Glenelg for dinner on the night Collingwood selected him at pick No.39 in the 2016 rookie draft.
The lean, running defender had been filling in time post-school waiting on tables at the restaurant as he thought about pursuing a plumbing apprenticeship.
However, the Magpies interrupted those plans in an instant and he was soon leaving the tables behind to head to Victoria and take his chance at making it in the AFL.
Mackie, the cousin of Geelong's three-time premiership defender Andrew Mackie, is something of a late bloomer.
A handy cricketer he leapt into drafting calculations when best-on-ground for Sacred Heart in the South Australian state schools knock-out competition.
In the game played under lights at Norwood's Cooper Stadium, he repelled many attacks wearing No.31 in a manner that drew comparisons to another triple premiership defender, Hawthorn's Ben Stratton.
Long-time Sacred Heart coach Anthony Goodrich told AFL.com.au Mackie had improved rapidly in the past 12 months as his confidence grew.
"He took the game on a bit and would zone off his opponent and read the play," Goodrich said.
Occasionally mistakes were made but Goodrich was prepared to let them happen as part of the players' progression.
Throughout his junior career he would speak to his older cousin Andrew, who would lend him the benefit of his experience whenever he was asked.
Mackie told SANFL.com.au the veteran Cat's main message was to never be selfish on a football field.
"If you're having a bad day, help your teammates," Mackie said.
A penetrating kick, he also played games with Glenelg under-18s and performed well in the finals as the Tigers won a premiership after the siren.
He didn't make the South Australian under-18s team but he was on the verge of selection as the team scoured the state for good kicks.
It was that aspect of his game that helped persuade Collingwood he was worth a punt with Magpies national recruiting assistant Dominic Milesi saying the 18 year-old had plenty of upside.
"[His] foot skills really stand out when you go and watch him play," Milesi told collingwoodfc.com.au.
Coach of the South Australian under-18s team, Brenton Phillips, told AFL.com.au his selection showed that players could find their way to an AFL club regardless of whether they played in the state team.
"I liked him. He's got some genuine size and will develop after two or three pre-seasons," Phillips said.
Goodrich remembers Mackie rocking up to training wearing hard cap boots with dirt on his face as he finished some practical studies in his trade and says he will apply a no-nonsense approach to his football too.
"He's a low maintenance kid. He just gets the job done, no complaints, no histrionics," Goodrich said.
They're characteristics his famous cousin has displayed in a long career at the Cats and ones unlikely to change whether Mackie makes it or not.