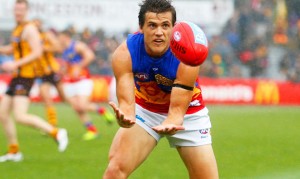 Captain Jed Adcock's on-field leadership role at the Brisbane Lions has become even more important following a spate of injuries to the Club's more senior players.
With Jonathan Brown and Ash McGrath sidelined, Adcock was the most experience Lions player on the field during last week's match against Sydney, and was one of just six players in the team with 100 or more AFL games to his name.
Sydney, meanwhile, had twice the amount of 100-gamers with 12.
Adcock
told SEN Radio in Melbourne on Thursday that extra responsibilities come with leading one of the youngest sides in the AFL competition.
"The most important thing as a leader is that you lead from the front on the field," Adcock told SEN's Morning Glory.
"(The role) changes a bit when you've got a younger group. You probably need to control the group a little bit more and help out when you need to.
"When you've got a more experienced and senior core, you pretty much just go out there and play footy because the rest of the team know what they're doing.
"It's important to keep interactive, get around the young guys as much as possible, and let them learn from your experience when you can."
Adcock also revealed that teammate Daniel Rich was in a positive state of mind since returning to Brisbane after undergoing a knee reconstruction.
"For a bloke that had an ACL done four weeks ago…I've never seen a bloke move so well. The crutches are gone, he's got fair extension in his knee, and is moving quite well," Adcock said.
"I think he actually holds a bit of hope that he's going to play this year, but we all know he's not.
"The ability for him to get where he is now has been quite impressive."