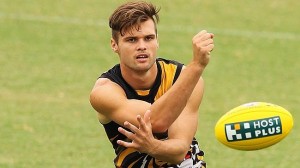 Talented Richmond youngster Ben Lennon has put a positive spin on a season that, so far, has netted him just one senior game.
The Tigers' first pick (No. 12 overall) in the 2013 National Draft, played in the Round 5 loss to Geelong at the MCG and has spent the rest of the season at VFL level.
He's adapted extremely well to a new role as a wingman in recent weeks, and is pressing strongly for a senior recall.
"I feel like I've learned a lot this year and I'm still developing," Lennon said on 'Talking Tigers'.
"Obviously, it's frustrating not playing in the 'ones', but it's more of a journey than a sprint, so I've just got to keep on working on my deficiencies and hopefully get in the seniors.
"I've been all right the last couple of weeks, learning the role as a wingman . . . just trying to nail the role more so than anything and then ball will come.
"The coach wants the ball in my hands as much as possible, so just trying to get as much of it as I can, running a lot more, and getting into the defensive half as well . . . I've got to try and play my role as best I can and run the right patterns and all that sort of thing as well.
Lennon, who turned 20 early this month, is hoping his growing versatility will help him regain a place in Richmond's main line-up.
"I have had stints down the backline and the forward line, so playing in the midfield and on the wing will add another string to my bow," he said.
"It's a little bit frustrating at times being thrown in different positions.
"You sort of feel like you've nailed one and then next minute you're back in the backline or something like that. But I think, looking back, it's been really good for me and it's only going to hold me in good stead . . .
"I know that if I get some opportunity, I'll be able to play at the level. But I've just got to play some good footy in the VFL and earn my spot.
"I've just got to keep telling myself that I'm a good player and can play at the level . . ."