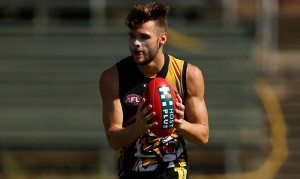 Not even a knee injury, which meant a spell on the sidelines for several weeks, could wipe the smile off the face of talented, young Tiger Ben Lennon.
Richmond's first selection (No. 12 overall) in the AFL's 2013 National Draft, is living the dream as a player at the club he's barracked for all his life, alongside his boyhood idol, Brett Deledio.
Lennon had Deledio's No. 3 on the back of his Richmond jumper, as a kid. Nowadays, he's following the lead of, and receiving sound advice about the game at the highest level, from the Tigers' vice-captain.
"He (Deledio) is a standout on the track. I sort of knew him before I came to the Club, and have grown a little bit closer to him now. I feel like I can ask him a few questions and get some advice. He's good like that," Lennon said in a special interview on this week's edition of the Club's official podcast, "Talking Tigers".
The 18-year-old is set for a return to the field with Richmond's VFL team, in this Friday's practice match against Footscray at the Whitten Oval, following his recovery from a minor knee injury.
"The knee's good. Hopefully, I'll play a half, and we'll see how we go," he said.
Lennon had a brief taste of AFL football, when he lined up for Richmond in the opening pre-season challenge match against Melbourne at Etihad Stadium.
"I found it very quick. It was phenomenal how quick it was," Lennon said.
"At times, I was just looking around and trying to find my opponent. And then, on the other side of that, you've got to try and get the ball and attack.
"So, I learned a lot, and I feel as though it's going to hold me in good stead. It was a good experience."
Lennon described his first pre-season in AFL football as "pretty taxing".
"It's obviously a big step up from the under-18s, but you see the Deledios and Cotchins, and they sort of pull you along," he said.
"The first couple of months were pretty hard, and sometimes the boys would stitch me up and say that we've got a meeting, when we actually didn't, so that was a bit funny.
"It's been a real step up, but it's been enjoyable as well.
"Obviously, it's professional and all that kind of thing, but I'm slowly getting used to it."
The former Macleod/Northern Knights star believes his injury setback may have been a blessing in disguise.
"That was the main thing the coaches said to me . . . it was a bit of a positive in a way, that I could step aside for a bit and get used to the game plan. It's been good," he said.
"They (the coaches) always give some feedback when I need it, and they're the first to tell me that it's not all a rush.
"Obviously, you want to get out there and show what you've got, but there's a bit more behind it . . . learning the structures and getting a bit bigger, and developing like that.
"I'm hoping to break into the (AFL) team – that's my main goal. Obviously, I've got to play some good footy in the VFL and put my name up. So, that's what I'm hoping to do.
"I don't want to put too much expectation on myself. I think the main thing I've got to do is put on some weight (he's currently 79kg) and get stronger.
"Once I can do that, then I feel like I can compete at the highest level."
Source: http://www.richmondfc.com.au/news/2014-03-20/lennon-on-starting-over-at-tigerland