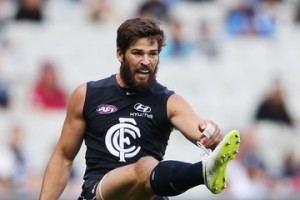 CARLTON forward Levi Casboult is finally enjoying rewards for his efforts and could be a key figure for the Blues to build their attack around, teammate Sam Rowe believes..
Casboult booted three goals in Sunday's win over Gold Coast, bringing his tally to 10 from four games — a showing Rowe says is a direct result of confidence in the 25-year-old.
"He's always been a really good contested mark and has got really good hands on him," he told SEN radio on Monday morning.
"He probably lacked a bit of confidence and hasn't quite been hitting his kicks for a little while. He's really got his confidence back and he's really starting to finish off his work.
"He's getting a bit of reward for the work that he's doing.
"He is (someone we can build a forward line around)."
Rowe concedes the Blues need to find the balance in taking the game on, admitting since being given the licence to do so by interim coach John Barker, the team may have "gotten a bit fast too often" in their game style.
"It's a bit of a balance where we can control the game for parts of it and sort of reset and go fast again," the defender said.
"It suits us pretty well and we're certainly getting a good response from the boys and they're really buying in."
And after a less-than-impressive start to the season, Rowe says the team is rather enjoying the change in fortune.
"Winning's a whole lot better than losing, so the boys are feeling a whole lot better about themselves at the moment," he said.