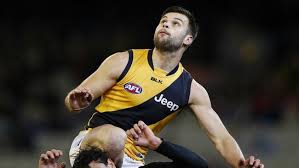 Star Richmond playmaker Brett Deledio has provided an interesting insight into talented young Tiger forward Ben Lennon, who received an AFL Rising Star nomination early this week following a string of impressive performances.
Lennon has earned some comparisons to Deledio in terms of aspects of his playing style – strong overhead, excellent kicking skills and a clever football brain.
"He's given us that little extra target down forward. He's a good mid-size, taller half-forward," Deledio said on this week's edition of the Club's official podcast 'Talking Tigers'.
"We've just got to keep him going with the defensive side of his game and keep his work-rate up.
"You'll start to see the benefits of him getting more confidence playing each week."
Deledio knew Lennon before he was taken by the Tigers at pick 12 overall in the 2013 National Draft and has closely followed his football progress.
"We've got the same manager (Anthony McConville) and we went out for lunch a couple of times and just spoke about he was going," Deledio said.
"I took an interest in him before he came here (Punt Road Oval) and trained with the AIS, so I've known Ben for a little while.
"I've always known that he's had a lot of talent, but it's all about his work-rate.
"We told him that in a leadership meeting . . . I thought he was extremely gifted and had all the traits, but I just didn't think he worked hard enough.
"I remember being told the exact same thing when I was younger from Matty (Richardson) and Kane Johnson . . . those sorts of players.
"They just said to me you've got all the attributes, but we don't think you work hard enough.
"That's hard to hear. You hate hearing that because you think you are working hard.
"But he's taken that on-board and he's starting to see the benefits.
"He's got no ceiling on his house (how far he can go in league football), so to speak."