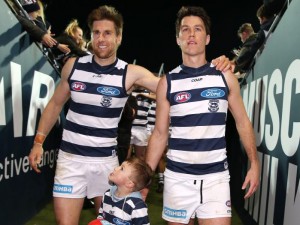 TWO of Geelong's recent greats are hanging up the boots — and they announced it in the humble way that only they could.
Defensive pair Tom Lonergan and Andrew Mackie will retire at the end of the season, with the 33-year-olds simply heading for a lap of Simonds Stadium after the Cats' 44-point win over GWS.
The duo saluted the home crowd in what could be their last ever game at the Cattery. Geelong will host a qualifying final but only if they are facing the Giants, and if the AFL allows it, will the match be down the highway.
Then Mackie and Lonergan headed on to a Channel Seven interview where they simply stated their decision.
"At the end of the year Domsy (Lonergan) and I are finishing up, so we thought what better way to go while the crowd's happy?" Mackie said.
"We can lock in to finals from here, get that out of the way and focus on what we've got to do."
While the veterans were clearly heading towards the ends of their careers, they only told the playing group on the ground after the win.
"We let them know just after the game," Lonergan said.
"We didn't say too much, we obviously know we've got a big month ahead of us so we don't want to get too carried away. Get it over and done with, do whatever media we have to and then move on to more important things."
The win was Mackie's 277th AFL game — and remarkably his 206th win. The South Australian was selected with Pick 7 in the 2002 national draft, earning three premierships and one All-Australian spot (2013) over his career.
The timing of the announcement was somewhat ironic for Lonergan, with it being 11 years to the day since he lost a kidney in an on-field incident against Melbourne.
But he fought back from that horrific day, with Saturday night's win being his 207th AFL game.
"As people, if you were saying to first, second, third year players 'we want you to be like someone', it would be Mackie and Lonergan," Geelong coach Chris Scott said in his post-match press conference.
"There is no one in the game that I respect more than Andrew Mackie and Tom Lonergan."
There might be a future for Lonergan in footy still, though. Brent Harvey joked on Fox Footy's Saturday Scoreboard that he'd like to see Lonergan join his brother Marc at North Heidelberg in the Northern Football League.