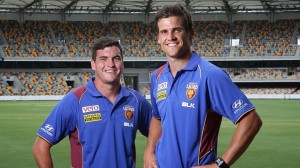 Author: Grantlee Kieza
It has been a long road to the top, literally, for Jed Adcock.
And no one knows that more than his dad Paul.
The new Brisbane Lions captain told me I would find his father a few kilometres outside the small Victorian goldfields town of Maryborough, in all likelihood propped up in front of the TV watching the cricket.
And I did, dragging Paul Adcock away from watching Friday's one-dayer in Perth to talk about Jed's rise to the Brisbane Lions' captaincy.
The Poms were, in a rarity this summer, hitting the Aussie bowlers all over the WACA but Paul only wanted to talk about another cricket star.
"You know Jed was a very good cricketer, too," Paul says.
"He played A grade for Maryborough when he was just 15. He opened the bowling with his medium pace and sent down 15 overs straight in one match for figures of 1-14.
"He played for a Ballarat-Maryborough squad in Melbourne as well. After 5.5 overs he had figures of 1-0.
"Back when he was 15 his sporting loves were basketball one, cricket two and footy three."
Paul says the new Lions captain was keen on sport from the age of 18 months.
"We never forced Jed to play any sport," he says.
"We encouraged him but believe me he didn't need much encouragement. From the time he could walk he was always playing with a football, basketball or cricket ball.
"I really don't know where he got his sporting ability from.
"I've barracked for Essendon my whole life but as far as my own footy career – well, I ran the bar and the social club for the Maryborough Rovers for 25 years but that was about it."
Maryborough is home to less than 8000 people and Paul and Jenny Adcock live on 2ha of peace and quiet outside town.
Paul has been in Maryborough for almost all of his 61 years after doctors told his mum the climate up in the dry bush would be better for her asthma than Melbourne.
Miners once turned the Maryborough countryside upside-down looking for gold and sporting scouts are still finding rich seams of it there.
As Paul outlined the journey of his son from Victorian bush basketballer to the captaincy of Brisbane's AFL team, he had just parked his truck after his regular four-hour return trip to Melbourne on the delivery run down the Pyrenees Highway.
Driving long distances is nothing new for him.
When Jed was growing up, he would drive his boy to the bigger regional centre of Ballarat to play basketball, an hour there and an hour back, four times a week.
Sometimes Paul's lifelong mate from Maryborough, Gary Chaplin, would drive because Gary's son Troy Chaplin was a budding basketballer too.
Troy now plays for Richmond in the AFL.
As kids Jed and Troy were coached by John Stringer and Bernie Crameri, whose boys Jake Stringer and Stewart Crameri now play for the Western Bulldogs.
Jed is still amazed that a little country town in the centre of Victoria has produced so many sporting top-liners of late.
Another local basketballer Matthew Dellavedova plays for the Cleveland Cavaliers in the NBA.
"I think it all comes down to having parents and coaches who encourage you," Jed says.
"It takes a lot of commitment for parents in the country to take their kids to sports and for us it all paid off."
After years of playing every sport he could, Adcock realised that opportunities to reach the top in basketball were becoming more limited with a shrinking local league.
His dad sat down with him and told him footy might be a good idea because he might even be able to make a living from it.
Jed did not watch much AFL as a kid and never really modelled his game on anyone.
He was just good at running and kicking and catching and, after captaining the North Ballarat Rebels Under-18 side at Eureka Stadium, he was picked up by the Brisbane Lions as selection No. 33 in the 2003 national draft.
He made his debut in Round 7 of 2004 at Etihad Stadium before a crowd that was about four times the whole population of his hometown. The Lions ran the Kangaroos ragged and his heart was almost bursting out of his chest.
"For a kid from the bush starting out in that sort of atmosphere, playing before that sort of crowd is really staggering," he says.
"Before that game I think the biggest crowd I'd ever played in front of was about 1000 at Ballarat. So you really appreciate the opportunities this game gives you."
At 28 he has never had a job outside playing football. But right from the outset the Lions' new skipper showed leadership potential.
Paul Adcock says in 2005, when Jed was Lions' rookie of the year, he had already learned to call the shots.
"He's in the back pocket," Paul explains.
"He's got Mal Michael at full-back, Chris Johnson in the other back pocket, Justin Leppitsch at centre half-back and Martin Pike on the other back flank.
"Jed's only 19 then but he's already directing traffic and the other players were quite happy about him doing it.
"That's the way he's been ever since he started playing. He's always been a director on the field."
Adcock's best season was 2007, when he started as a defender before moving to the midfield.
He finished second behind Jonathan Brown, the captain he replaces, as the Lions' best-and-fairest after hitting a purple patch late in the year when it seemed he was best on ground for match after match.
"It all clicked during that run, everything went right," Jed says.
"It wasn't just my form but it had to do a lot with how the people around me were playing and what the opposition was doing."
Like the Lions, who have finished most of his career outside the finals, he has not been able to replicate those sorts of dazzling performances often, but he takes great pride in his overall consistency.
"I don't know if the best is yet to come from me as player or if there is a lot more improvement in my game," he says, "but I'm happy with my form and that I play to a high level week in, week out.
"I still have some big goals in front of me."
He says being team captain is primarily an on-field coaching role and that the Lions' performances in the second half of last season were encouraging.
Not much has to change, he says, for the side to be at the top end of the ladder come finals time in 2014.
"Everyone at the club is a competitive beast and when we go out there we want to win," he says.
"Jonathan Brown and Michael Voss are hard acts to follow as Lions captains but I think the team is definitely on the way up."
Adcock has played 163 games and captained the Lions in the final four of last season when Brown was out with a foot injury.
Coach Leppitsch, his former backline teammate, says: "Jed is a great on-field leader, but just as importantly he sets a great example off it, too".
Adcock may have been raised in country Victoria but really he has grown up in Brisbane.
He arrived as a rookie teenager, met his wife Hayley and is now father of two-year-old Lily and four-month-old Archie.
"I'm very much a Queenslander now," he says.
"I loved growing up in country Victoria but there comes a point for everyone when they have to set out and make a life for themselves and that's what I've done in Brisbane.
"Like every player I dream of winning a Grand Final.
"I like to think I've got quite a few years left in football and I would love to win a premiership with the Brisbane Lions."
Source: http://www.couriermail.com.au/sport/afl/long-road-from-country-victoria-to-brisbane-lions-captaincy-for-jed-adcock/story-fnia3y5g-1226810384711