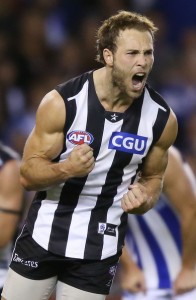 Injured midfielder Brent Macaffer is expected to run out for a long-awaited return to football at Victoria Park on Saturday afternoon.
The 26-year-old hasn't played in nearly a year after injuring his ACL in round 22 against Greater Western Sydney last year.
357 days later, Macaffer will return against North Ballarat in the VFL.
"He's not short term, medium term or long term – he will play," Director of Football Neil Blame told Collingwood Media's 'Blackmores Injury Update'.
"Caff will be available," Balme said.
"Probably only three quarters of a game but we'll be really pleased to see him back."
The 2010 Premiership player took the field in every game in Collingwood's 2014 campaign before he was struck down in the Magpies round 22 trip to Spotless Stadium in Western Sydney.
The recovery process has been slow, yet Macaffer has shown strong form on the training track in the last six weeks.
"I had a hiccup probably about six weeks ago. I had to have a bit more surgery on my hamstring to sort that out," he told Collingwood Media.
"The last six weeks have been really steady progress and in particular in the past two weeks there's been a lot of progress."
After months of rehab, Macaffer joined the playing group two weeks ago to resume full training.
After his first session he described to Collingwood Media that his sights were firmly focussed on returning to the field in 2015.
"I just want to play some football. It's been a long time since I've last done that," Macaffer said.
"I know it's getting towards the back end of the year now, so the goal is just to string together a couple of games and go from there.
"The VFL are going alright so to be a part of that and play some finals for them, that would be a massive tick for me."
Macaffer hasn't played in the VFL since 2012 when he averaged 18.7 disposals and five marks in three games.
With three rounds remaining in the 2015 VFL season, the tagger has time to prove his fitness before a potential finals campaign.
The VFL Magpies sit comfortably in sixth position with only percentage separating them from fourth-placed Footscray.
Three consecutive home games at Victoria Park provides the Magpie Army the perfect opportunity to welcome Macaffer back to competitive football.
Balme led the charge, encouraging fans to show their support on Saturday afternoon.
"Let's get down to Vic Park and have a look at him and welcome him back."