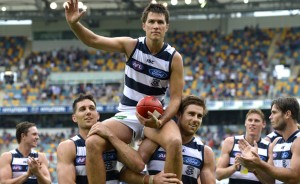 ANDREW Mackie on Friday night moves into the top 10 for games played at Geelong, joining Garry "Buddha" Hocking on 274 matches.
This week the soon to be 33-year-old looked back, and forward, on a career that began when Stephen Wells took him with pick No.7 in the 2002 national draft.
Jon Anderson: You've come a long way from a homesick 72kg half-forward to a big, bruising 83kg half-back. Congratulations.
Andrew Mackie: Thanks Ando. I'm glad you appreciate the time I've spent in the weight room.
To think you could have gone home in 2006 when Port Adelaide made you a really attractive offer.
I made the decision to stay because Geelong had put so much faith in me and I owed them. It was the right call.
And now you are about to join "Buddha" on 274 games, placing you ninth on the all-time list at the Cats. And of course the person to have played the most AFL games in No.4, and the fastest to have played in 200 winning games.
Those things you can look back on in retirement because when you are playing there honestly isn't time.
So when is retirement?
I will have that conversation with the club at the appropriate time. Right now it's about tonight and the rest of this season because we have a chance to go somewhere this year.
And exorcise the demons of that Sydney capitulation in last year's preliminary final.
You guys make more of that than we do internally but it's fair to say as a player you never completely forget bad losses, and we were blown out of the water early by the Swans.
That has to provide motivation.
Individually I'm sure it does but as a team we are now playing a different brand of football and there are nine new players in the team since that game.
What do you reflect on when looking back on your 14 years of senior football?
How lucky I've been to have played with such a stable club, one where the administration keeps putting money into the football department to ensure we play finals, which have happened in 11 of the past 13 years.
I don't know Chris Scott well but from the outside he appears mentally agile. Is that the case or has he just read and learnt these big words to make himself sound smart?
It's no illusion. I absolutely feed off the way he conveys his messages. People say to me that meetings must get so boring but after seven years I could listen to him all day long. I'm glad through his media role on AFL360 that people get to hear how smart he is.
What have been the biggest changes in your AFL life?
Game style because there is so much more going on within games. Every stoppage can be different, week to week, sometimes quarter to quarter.
That must make it really hard if you aren't the brightest bulb in the chandelier?
The best thing for any individual is to play on instinct. And to be able to do that you must know your game plan inside out. Know what your setups are. Jed Bews is a good example with his last month leading the way in how we want to defend. He's playing on instinct, not second guessing himself.
Speaking about on-field, they reckon you can deliver a handy sledge. What has been your best?
I've been asked that plenty of times and my answer is there is always method to it. If you can somehow disrupt what a good player is doing, or get them out of zinc, they why not try. But most of the great players don't get worried by it.
What type of stuff?
Whatever comes into your mind but I have never crossed the line and never would. I respect players from other clubs, particularly the Saints and Hawthorn blokes from playing in big games. Luke Hodge, Nick Riewoldt, Grant Birchall, Sam Mitchell, blokes like that.
Tell me about some of the kids at the club. Wylie Buzza?
He was so raw when he arrived but he has just worked so hard to get the best out of himself. I can't tell you exactly how far he will go but I know at the end of his career he will have got the absolute best out of himself. He values the tough stuff, getting after the opposition and laying tackles. That earns you respect around the club.
Tom Stewart and Brandan Parfitt?
Parfitt has time which is such a good trait to have, while Stewart is a real competitor which will hold him in good stead for his career. And obviously he has the closing speed.
I heard recently you could pursue a career in list management when you hang them up. So tell me, will Gazza (Gary Ablett) play in the hoops next year?
I can see you licking your lips at the thought.
I have been known to call out his name in my sleep.
Gary is obviously contracted to the Gold Coast next year and that would make it very hard for something to happen.
You have three children in Freddy, 4, Louie, 2, and Lindy, almost 1. Hopefully all father/sons or a father/daughter down the track.
I'm a bit worried because Freddy's favourite player is Gary Rohan from the Swans. He saw him hurt his neck a few weeks ago and felt really sorry for him.
Tell Freddy he's OK and to start barracking for the Cats again. If that doesn't work then ban him from watching Shaun the Sheep for a week. Thanks Mack.