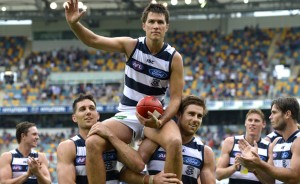 Geelong's Andrew Mackie has been named as part of Geelong's leadership group together with Captain Joel Selwood, vice-captain Harry Taylor, Tom Hawkins and Corey Enright.
Wayne Carey asked Mackie about the flattening of his performance towards the end of Mark 'Bomber' Thompson's reign as coach at Geelong and the new lease on life he gained under current coach Chris Scott.
"I had a rough end to 2010 and it coincided with Bomber's last little bit as coach," Mackie told Triple M Footy: Pre Season.
"I probably went a bit flat and to be honest, for myself and others, Chris (Scott) came in and gave us new lease of life.
"He had a great outlook on the game and the way I like to play the game is similar to Chris' philosophies.
"I've enjoyed that ever since, he's obviously a great thinker of the game and the boys enjoy playing under him.
"To be honest, the whole thing to do with the Bomber stuff, probably I hit a wall as much as anything.
"It was just a timing thing that Chris came in and Bomber went off to Essendon and I was able to get myself back on track which has been great since."