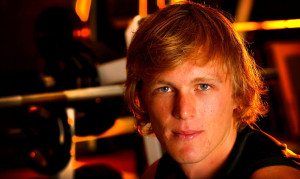 Daniel Markworth is confident his long-awaited AFL debut isn't too far away after overcoming a knee scare on St Kilda's Colorado training camp last December.
Markworth, a 21-year-old draftee from 2011 who was robbed of the chance to play his first game due to a torn anterior cruciate ligament the following year, is gearing up for his second full game back this weekend.
The highly-touted forward admitted he was still rebuilding his confidence after his 2012 injury another recent scare but believed he would break into the senior team this season after a long wait.
"I believe it will happen. I can't think any other way," Markworth told AFL.com.au this week.
"If I don't think I can play senior footy then I shouldn't really be here.
"I believe I can play. I'm not playing my best at the moment but it's not far off.
"Hopefully I can start playing well and I'll back myself in."
Markworth needed the knee reconstruction after an innocuous training incident towards the end of the 2012 Colorado trip.
He had the operation on his right knee shortly before Christmas and spent the entire 2013 season recovering from it.
Then, in just his third session on the same trip last year, he dropped a mark and went to turn quickly, which caused a sinister stab of pain.
"It was maybe five, 10 minutes later when the docs told me they weren't sure what I'd done," he recalled.
"I kind of broke down a little bit but I knew I hadn't done it [the ACL]. It was more just my confidence was shot, which thankfully I've got back now.
"At the time, I was a little bit disheartened."
Damage to the ACL graft and meniscus was eventually ruled out but Markworth still needed a second operation when back in Australia.
He had scar tissue removed, which he said made an immediate difference to how it felt but set him back a month in regards to pre-season training.
Markworth returned to the field in a VFL practice match two weeks ago for Sandringham, and has also played in an intra-club this pre-season.
With his second hit-out to come this weekend against Frankston, he is realistic it may take a few more games before he's ready to push for a senior berth.
Markworth was late to football before he was drafted, taking up the game in his mid-teens after dabbling in tennis, basketball and soccer.
Having missed an entire season now, he understands it's going to take time to find his feet on the football field again.
"I just need to find form again. It's hard; there's young guys who have had full pre-seasons who are up and going," he said.
"For me to get back into the side, I just have to start playing well. It's as simple as that.
"That could be one week, it could be five weeks, it
could be 10 but hopefully not.
"It's just a matter of time but it's up to me, which is the good thing."
Source: http://www.afl.com.au/news/2014-03-15/debut-in-sight-for-young-saint