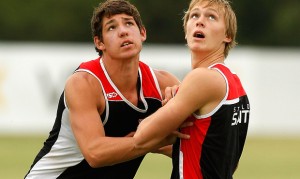 Daniel Markworth was sitting quietly among his teammates, listening. It was a Monday morning and the St Kilda coaches were pulling apart the previous weekend's game. The team had lacked run-and-carry, they said, and the players had been tentative. They wanted them to be more daring, to take the game on.
Markworth, in his second season, instinctively pricked up his ears – they were describing him. He smiled ruefully. "If I was fully fit," he thought, "here's my chance. I would be the guy they'd be bringing in to help fix this problem."
St Kilda was struggling. It had been a declining force since reaching the grand final for a second consecutive time two and a half years earlier. After defeats in the opening two rounds of the 2013 season, the club focused on rebuilding its list. It was a great place to be if you were young and had a sound body. But Markworth knew he had no chance of running out alongside legends like Riewoldt, Montagna and Hayes anytime soon.
His dreams for the season had turned into a nightmare four days from the end of the club's high-altitude training camp in Boulder, Colorado, last December. In a moment of hesitation as he tried to tackle a teammate, his right leg crumpled. The anterior cruciate ligament in his knee had snapped.
"I can't remember the pain as such," he says, "but I can remember the sound. There was a crack – something quite loud that popped or cracked – and straight away I knew I'm not getting up from this."
The past year has been long, painful and frustrating. But as it draws to an end, 21-year-old Markworth finds himself boarding a flight back to Boulder with his teammates. He had stopped thinking about his injury. Now people are asking him about it again.
He was full of confidence when he travelled to America last year. His progress had been rapid and remarkable. A talented junior tennis player and basketballer, he arrived late on the footy scene. Then, in 2011, he rocketed into draft contention with a series of eye-catching performances for Calder Cannons in his only TAC Cup season.
His acceleration and pace, in particular, stood out. At the 2011 draft combine, he finished equal sixth in both the 20 metres and the repeated sprints. His coaches spoke enthusiastically of a player with an attractive combination of size, skills and speed, a player who stood 189cm tall, had clean hands, and could burst away from an opponent in just a few strides.
Drafted by St Kilda with pick 35, Markworth showed enough promise as a half-forward for Sandringham in the VFL in 2012 to be named three times as an emergency for St Kilda. He saved his best game until last: a three-goal, best-on-ground performance in Sandringham's elimination final defeat.
He ended the season feeling he'd been close to breaking into the AFL team, and knew that if he put on a couple of kilos over the summer, he would almost certainly get his chance in 2013. Then injury struck.
"It's kind of funny how it happened," he says, "but I was probably on a massive high when I did my injury. I was moving quite well, the coaches were giving me positive feedback; an injury was literally the last thing on my mind."
His first reaction was to ask how many weeks he'd be out for. He'd come so far so quickly. Nothing had really held him back before. Then as the shock wore off, reality sank in.
First he had to cope with the flight home, then surgery five days before Christmas. St Kilda gave him two weeks' leave, but by mid-January he was back at the club for the start of rehab. Around him, his teammates were getting stuck into pre-season training.
"I was with them but not really with them," he says. "I was doing my own thing. I was the injured guy."
He was desperate to know how long it would be before he could get back out there with them. He constantly questioned his doctors and physios, comparing their opinions in order to make his own informed decisions.
It wasn't going to be quick, he realised that. St Kilda extended his contract by a year so that he could concentrate on getting fit without the worry of what might happen at the end of the season.
Little things he'd previously taken for granted, like being able to jump or hop, he now found painful and difficult. "I didn't want to do it," he says. "I felt pretty pathetic." But the more he did them, the easier they became. Five months after his operation came the day he'd been waiting for, the day he could start running again.
"In my first session," he says, "I did a total of two kilometres – and was ruined by the end of it. But very quickly I got used to it. The second session was three kilometres, the third session was four – broken up a little bit. You quite quickly get your fitness back, and then it's just fine-tuning it, which takes a little bit longer."
Around him, though, St Kilda's season was unravelling. The first dozen games brought
three wins. Eight defeats followed. Victories in the final two rounds against Gold Coast and Fremantle served to salvage a small amount of the season. Markworth was merely an observer as the pressure mounted on those around him.
"It was hard to ride the rollercoaster with them," he says, "because in the end I really had nothing to do with the outcome.
"Their results impacted on what they did that week but had no impact on what I did. I still did my rehab. I kind of had to live in two worlds: my own little rehab world and the team world, and I had to keep switching between those."
To break up his rehab, Markworth travelled to Queensland in July to spend 10 days training with champion ironman Trevor Hendy. Soon after he returned he was able to do one-on-one sessions with his coaches to improve his running and agility. He wouldn't be risked in training with his teammates. But by the end of the season he was starting to feel physically back to his old self. His kicking still lacked some power, but his pace had been almost fully restored. When he left for a 4½-week holiday in Europe in September, he no longer saw himself as the injured guy.
Now he is looking forward to next season and the prospect of playing in St Kilda's young team. He believes he has the ability to succeed in the AFL, but knows that after so long out of the game he has to get used to training and playing again before he is truly ready.
"It's the last piece of the puzzle," he says, "to get out there and be normal again and remember how to play footy."
St Kilda's new senior coach, Alan Richardson, who was appointed just under two weeks ago, comes with a reputation for developing youngsters. Markworth has to prove himself again, but it's a challenge he's relishing.
His goals are the same as they were last year: to play in round one, and to play 10 games. How reasonable those targets appear to other people, he says, he neither knows nor cares – but achieving them won't be easy.
"Obviously the team's a lot younger," he says, "and some people might have the opinion that it will be easier to get into the St Kilda side. But I've said this to a few people: it doesn't really matter who's in the side, you've still got to be better than 20 blokes, and you've got to be better than a lot of blokes that play your position. And the blokes at an AFL club are not duds, so I don't view it as any easier this year.
"There's a little bit more pressure on me, if anything. I'm in my third year now, I haven't played yet and a lot of people say I should be playing, so there's a little bit more pressure. But that's OK."
First, though, comes the return to Boulder. Once again Markworth is going there full of confidence.
He says he doesn't like to dwell on what happened last year. "I tell myself to just relax," he says; "you'll think yourself into being injured again, so I try to avoid that.
"It will be interesting to be back at the exact place and go, 'All right, this time around it'll work'.
"I'll be a pretty happy man when I come back from Colorado fully fit. There will be nothing holding me back then."
Source: http://www.saints.com.au/news/2013-11-27/going-full-circle