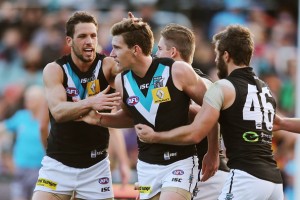 Matt White has received another Goal of the Year nomination thanks to his brilliant snap from the north-eastern pocket on Friday night.
It comes five weeks after he won the Round 17 voting for his incredible run down the wing at Etihad Stadium against the Tigers.
White's goal came during the third quarter as the Power swung the ball wide to the hard-running forward, who surged forward and kicked a perfect drop punt from 45 metres out on a tight angle.