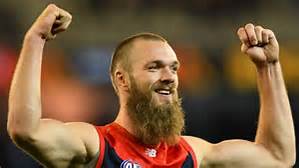 Melbourne's round 23 capitulation to Collingwood last year was one of the most disastrous ends to a season you could fathom, a fact not lost on Max Gawn.
He says he sat alone and "angry" in a dark room to watch West Coast beat Adelaide the next day, which extinguished the Demons' hopes of a first finals appearance since 2006.
Expectations among Demons' fans are high for season 2018. Gawn is over his hamstring woes, Jesse Hogan has by all reports had a superb pre-season and players like Clayton Oliver, Christian Petracca and Jayden Hunt should continue to improve, such is their talent. And don't forget Jake Lever down back.
Despite the optimism, Gawn told reporters at the club's family day on Sunday that ghosts of 2017 still linger.
"It [round 23, 2017] will [be on my mind] when I actually walk on the 'G [in 2018] … We spoke about it week one, sort of day one [of pre-season]," Gawn said.
"I obviously thought about it all offseason but once we addressed it day one it has been a little bit on the backburner so we might address it toward round one. Apart from that we will just use it as sort of energy over the offseason.
"I had a couple people over at my house [during the West Coast vs Adelaide game] who were getting some harsh words said towards their way. I was relatively angry, which, I mean, so were 50,000 Melbourne members as well. I was pretty angry straight after the Collingwood game, to be honest, but that's been and gone, we use it as fuel to get a little bit fitter over the pre-season."
Gawn said the team was embracing the heightened expectations on the club, but said the only pressure he put on himself was to produce a better physical performance in 2018.
The ruckman missed rounds four to 13 with a hamstring injury.
"I feel a bit of pressure to get back to some form. I was in some pretty poor form last year, including with my hamstring. With team performance I don't feel there's too much pressure there.
"We saw in 2015 and 2016 I stayed injury free for both of those seasons and I played majority of the games to a relatively good level. Last year, I'd like to blame it on my hamstring but I probably came back a little unfit and was struggling to keep up with pretty premier ruckmen."
The Demons played two quarters of match simulation at Casey Fields last Friday after their JLT Series win over North Melbourne six days prior.
They will play St Kilda in another JLT Series clash on Thursday before their 2018 season kicks off against the Brisbane Lions at Etihad Stadium on March 24.
"I hope it's a breakout year for a lot of people at the club. We have a couple guys around the 20, 21-year-old mark that are really exciting. So hopefully we have 10 or 11 breakout players," Gawn said.