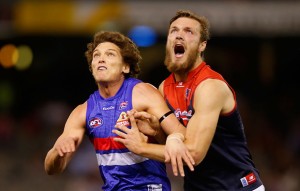 SHAKING hands with Max Gawn is like putting on a wicketkeeping glove five sizes too big.
Rising from a cafe table to his 208cm, it's impossible not to be struck by the size of the Melbourne ruckman.
But nearly six years after limping into the club with a newly reconstructed knee, Gawn is producing big games to match his big frame. The 23-year-old is entrenched among the competition's most in-form ruckmen and stands alone as the most dominant mark.
This is the story of a self-confessed larrikin who was told by five different coaches to blunt the comedy routine. One who was busted having a "lazy" puff on a cigarette on the way to training in his first year. It's the tale of a likable, laid-back lad cruelled by injury and a lack of belief so severe he sometimes hoped his teammates wouldn't kick to him.
Throughout it all he maintained a sense of humour loved by teammates and revered by Demons fans. But it's that love of a laugh Gawn suspects may have contributed to him playing only 32 games in five-and-a-half seasons.
"There's a fine line and I've found it hard since day one to find the balance between being the class clown and the serious guy," Gawn told the Herald Sun this week.
"The five coaching groups I've had since I've been at Melbourne, pretty much every single one has addressed the class clown imbalance. When you're not playing and always injured, that stuff can stick.
"Obviously we're going through tough times and I think you need people like that, but I had to find a bit of white line fever and bit of competitiveness. I think I've got that now."
Gawn, in the VFL or rehab group for much of his AFL life, is now turning heads at the highest level. It's the first time he's played six consecutive senior games and critically, they have been as a ruck-forward rather than a forward-ruck.
He ranks second among ruckmen for average ranking points (114) and third for hitouts to advantage (12.5). His average of 2.8 contested marks per game is comfortably the most among ruckmen.
Against Geelong in Round 12, Gawn had 19 possessions, eight marks, 44 hitouts, five clearances and kicked a goal. In a newspaper interview after the game, he spoke with typical honesty, saying he'd felt invincible.
"On the first day back at the club I knew something was up when I couldn't find my name on the magnet board," Gawn said.
"Then I've seen No. 11 next to 'Mr Invincible'. I didn't even know I'd said it, it slipped out. I think it was Roosy (coach Paul Roos). It's got Roosy written all over it."
Gawn is now thriving after surviving. He was taken in a Melbourne 2009 draft haul that netted No. 1 pick Tom Scully (left for GWS), No. 2 Jack Trengove (long-term injury), Jordan Gysberts (delisted), Luke Tapscott (delisted) and Jack Fitzpatrick.
"Me and Fitzy were joking about this the other day. We were saying, 'Who would have thought?'. You could have written your own ticket to say that Gawn and Fitzpatrick would be the last two standing out of that six," Gawn said.
Yet the injury gods have tested him more than most. He's had two knee reconstructions, narrowly avoided a third and suffered a three-month hamstring injury.
"I've always lacked trust in my body. My body has turned bad on me a lot," he said.
"There's such a bad stigma that comes with a knee reconstruction. Anyone who has had one it's like, 'Oh, he's in a cloud because of his knee', but there's some great stories — people who've had them and gone on to do good things.
"Luke Darcy had two, Paul Salmon, Daniel Menzel is coming back now and Jon Patton just kicked seven (goals in the NEAFL). Us knee reco boys, we've got to stick together. I send a text to the guys who go down … I know how good it felt when people touched base with me.
"Once I got some continuity in my knee I started to think I could make it."
Part-time ruck coach Greg Stafford has been a major factor in his emergence, while teammate Mark Jamar's centre bounce nous had also been invaluable.
"This year it really hit me that it's not just going to fall into place. As a young ruckman you sort of think, 'If I just keep doing everything right it's going to fall into place for me'," Gawn said.
"You've got work hard and you've got to want the ball. I've had times when you don't want them to kick it to you because you're not as confident in marking, you don't want to screw up and look bad. But you take one early and all of a sudden you want the ball kicked to you."
He's in a "good space" off the field, too. Gawn donates a significant amount of his spare time to coach the Ormond under-17s and is part of Max Jones Co. — a custom-made timber furniture business he runs with teammates Matt Jones and Max King.
"I've got a lot of things I've still got to improve on. But I'm training well, I'm learning as I go and I'm enjoying my footy," he said.
"I reckon the less I think about it the better I am. I know I've got (Todd) Goldstein in two weeks, but I don't really worry about it."