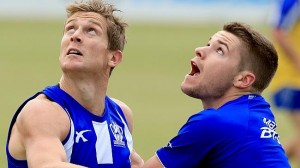 North Melbourne's development coaches wanted to see Max Warren add variety to his defensive game this season and he's delivered in spades.
The rookie from Healesville, in his third year on the Kangaroos AFL list, has played on and nullified the likes of Stevie Motlop, Daniel Giansiracusa and Frankston forward Shannon Taylor while playing for the Roos' VFL affiliate, North Ballarat, this season.
His efforts have helped the Roosters turn a 0-4 start into a 4-4 season record and jump into the top eight.
The 22-year-old, who measures in at 181cm, has improved so much in the space of the first nine rounds he now takes the opposition's most dangerous forward each week.
Warren is thriving on the challenge.
"I've been very fortunate this year with a lot of the North Ballarat defenders helping me out when I've played on tough opposition, Motlop and Giansiracusa the more notable forwards, and I've been lucky to play well in those games,'' he said.
"I've played on a lot of different forwards and they don't come more lively than Motlop, he was quick and took me up and down the ground, Gia wouldn't stop running all day and I've given away a couple of feet playing on some other guys. But, the boys have been really good helping me out if I'm oversized.
"It's almost been a leadership role for me this year with some defenders out injured or different personnel playing back there and it's been a really good experience for me to add another string to my bow. I've become more vocal on the field and helping at stoppages, it's something I've had to develop and step up.''
Meticulous preparation during the week at Arden Street has been the key to Warren's success.
"Probably two days prior to game day we have a North Ballarat meeting at North Melbourne to discuss structures and who we'll be playing on. With Shannon Taylor I got told two days before and we've got a lot of systems in place at North Melbourne to watch the opposition, so I was able to watch footage of all his games and different angles,'' he said.
"It gives you an insight into how you can try and nullify their impact on games and the best tactics to use and it's certainly helped me with the tasks I've had.''
Warren's application has impressed North Melbourne development coach Ben Dyer.
"Max's attitude this pre-season was spot on. Sometimes when you come into your third year as a rookie it becomes make or break, but it's a credit to Max how he presented himself,'' he said.
"He's done every job he's had really, really well. He studies the opposition during the week, looks for certain things on tape and works on how he could counteract that in a game.
"Max tries to mirror what the AFL boys do with their weekly preparation and because he's used to doing those things it will make the transition to playing AFL a bit easier.''
Warren hopes that transition isn't far away. He wants to make his AFL debut this season and believes it's a realistic aim.
Warren will need to be elevated to the senior list to do so, however, the Kangaroos have the option of elevating a player to replace defender Joel Tippett who is on the long term injury list.
"My goal is definitely to play at AFL level this year and to continue the form I have in the VFL,'' he said.
While Warren has moved into the city, closer to the Roos headquarters, his family still lives in Healesville and younger brother Charles is on the Eastern Ranges TAC Cup list.
He likes how the country atmosphere at North Ballarat feels like home.
"I've found North Ballarat to be more like a local club, everyone gets along and involved with everything and coming from Healesville it's been really good, not foreign at all,'' he said.
"It's been really easy to mould into the culture.''
It's a view North Ballarat coach Gerard FitzGerald shares.
"Max is well respected in our club because of the way he plays and the way he continues to understand his role and wants to play it well," the Roosters coach said.