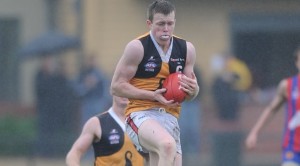 North's latest pick up, Rookie Tim McGenniss, will wear number 37 on his back for North Melbourne next year.
With the Rookie Draft now completed, the club's list has been finalised and all numbers have been allocated.
North Melbourne Chief of Football Donald McDonald had this to say about Tim:
Tim's a midfielder from the Dandenong Stingrays. Our recruiters have kept a close watch on him all year and they feel he's got some really strong attributes that we can build on, and hopefully he'll add another dimension to our midfield group down the track.
He impressed us with his consistency over the year. He won the Stingrays' best and fairest. He didn't play in the [NAB AFL Under-18] championships, but he's been able to keep working hard and overcome the disappointment around not making the Vic Country team, and just persist. They're the sorts of traits that successful rookies have, who end up progressing to have good AFL careers.