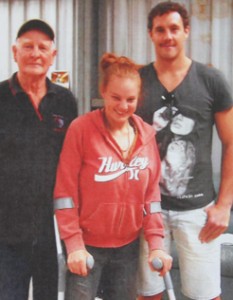 Sydney Swans ruckman Shane Mumford is stepping up to support his younger sister Deanna, who is living with cerebral palsy.
The ruckman, who will return to his old stomping ground at Skilled Stadium when the Swans take on Geelong this Saturday, spoke to sydneyswans.com.au this week about the 'STEPtember' campaign, which raises funds for the Cerebral Palsy Alliance.
"It's something that has affected my family with my sister having cerebral palsy," Mumford said.
"It's obviously something I'd really like to help out with and try and raise the awareness of how many people are actually living with cerebral palsy and try and raise some funds for the Cerebral Palsy Alliance so they can provide for people who have cerebral palsy.
"You just need to sign up, walk the steps and get people to sponsor you and it's a great way to raise money for a great cause."
More than 34,000 Australians are currently living with cerebral palsy, which is a permanent disability affecting movement, caused by damage to the developing brain either before birth or soon after.
While there is a broad spectrum of disability associated with the condition, Mumford said his sister was one of the 'lucky ones' compared to others affected by cerebral palsy.
"In my sister's case, it's her balance that is most affected and she walks with a couple of sticks, and for any sort of long walks or when she comes to the footy, mum and dad put her in a wheelchair just so it's easier for her," he said.
"For what she's got, she's one of the lucky ones.
"A lot of people affected by cerebral palsy are stuck in wheelchairs for their lives and can't really do too much, so for her to be able to get around and still be able to communicate with people properly and live a semi-normal life is a really big thing."
Despite her physical difficulties, Mumford said Deanna was resilient and definitely shared his big personality and positivity.
"She's just really happy and outgoing," he said.
"She just loves chatting to people or annoying people and hassling people – a bit like myself – but she just loves getting around and chatting to everyone and going out whenever she can."
Deanna and the Mumford family will make the trip from Bunyip to Geelong this weekend to support Mummy in this weekend's clash with the Cats.
Mumford said Deanna was one of his biggest fans, and was the first to switch her support from the Cats to the Swans when he made the move up north at the end of 2009.
"She's coming down to Geelong to watch the game," he said.
"I think it's her first game in a while now and she didn't come to any of the Melbourne games, so I think she's really looking forward to coming down and watching.
"She was a Geelong fan when I was there, but she jumped ship pretty quick to the Swans."
The ruckman said he was looking forward to this weekend's challenge against the Cats in Geelong, which he describes as one of the toughest trips in football.
"They are almost impossible to beat down there, but I think we were the last team to do it, so we can take a lot of confidence out of that," he said.
"We know we can do it if we get our game style right and come out really firing."