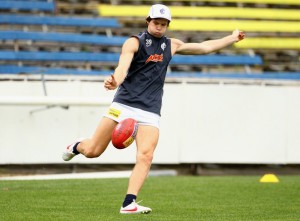 Young Rookie Frazer Dale has re-signed as a Rookie with Carlton for the 2013 season after playing two senior games this year.
"Frazer will continue to grow and develop, he is only young but he definitely showed some really promising signs throughout the year," Carlton's Football Manager Andrew McKay said.
"He has now had a taste of
senior football and knows what is required to take his game to the next level."
Frazer was selection No. 50 in the 2011 Rookie Draft and made his debut at Etihad Stadium in Round 17 against the Western Bulldogs after being elevated to the senior list.