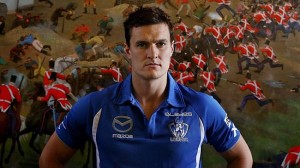 North Melbourne full-back Scott Thompson says he loves nothing more than taking on the league's elite forwards.
But it's doubtful his opponents share the same enthusiasm after his stellar 2013.
Thompson has emerged as the No. 1 ranked key defender in the competition, elevating his game to grab All-Australian status and the Kangaroos' best and fairest (shared with Daniel Wells) — not to mention silencing some of the best forwards in the business.
In his 19 matches last season, Thompson conceded just 26 goals and, on eight occasions, held his opponent goal-less.
While the challenge of attempting to quell the likes of Nick Riewoldt, Lance Franklin and Travis Cloke can be one of the toughest jobs at the office, Thompson relished the opportunity.
"I like playing on all the big names and the big key forwards,'' Thompson said.
"You know the ball is going to get kicked to them, so you know you are going to be in the play most of the day.
"That's always good when you know in the game that you are going to be in the play and the ball is going to be around you.
"So, I always look forward to really matching up against all the big names.''
As the Kangaroos prepare for their NAB Challenge opener against Carlton in Ballarat today, Thompson said he needed little motivation in trying to silence the power forwards.
Put simply, he has an extreme dislike for having goals kicked on him.
"You hate getting goals kicked on you, so you obviously you want to keep them to zero goals,'' the 27-year-old said.
"But it just happened that I strung a few games together where no one kicked a goal (on me last season).
"I think one game Buddy kicked five points, so I was pretty lucky he did not kick a goal that game.
"Sometimes you are just lucky, but other times you work hard and you really try and stop them kicking that goal.''
But there is more to Thompson's game than simply shutting down an opponent.
Last season, Champion Data ranked him equal No. 1 for intercept possessions per match, while he averaged more disposals than any other key defender.
He launched 169 points from those intercept possessions, also the most in the league, further highlighting his attacking ability.
"I guess in juniors I used to always try and take the game on," said Thompson, who will welcome his first child on the eve of the home-and-away season.
"But when I got to the AFL I probably concentrated more on my defending than my attack.
"(Coach) Brad (Scott) has been really good and given me, not a licence, but the confidence to really play my natural game and I know sometimes I probably annoy the coaches because I do some erratic things.
"But it's good when you get the ball in your hands I love attacking with the footy."
Kangaroos' assistant Shane Watson, defensive coach for the past four years but now in charge of the forwards, said one of Thompson's strengths was his willingness to switch tactics should an opponent burst to life.
"The thing about him is he will go into a game having an A, B and C plan," Watson said.
"He just doesn't go in and go, `Right, I've watched the vision on my opponent and this is how I am going to beat him'.
"He'll work out a strategy, run it by you and then go at it, but if it's not working for whatever reason, he has the ability to change things up in game.
"Just going in there with a few plans often helps rather than going in and if you're being beaten not having anything else to go to. He questions things, he runs things past you, he ultimately goes out and works out what's best for him.
"He has always been a good one-on-one defender, but he has just added so much more to his game in terms of his intercepting, like his intercept marking. He reads the play really well and he's not afraid to come off his direct opponent and help out someone else.''
Facing the league's power forwards, Thompson cannot afford to be at his best. So, who does he rate as the toughest defensive challenge?
"I would probably say Nick Riewoldt is the best,'' Thompson said.
"His workrate and his marking ability is probably one of the best.
"But also (Travis) Cloke, his strength in the one-on-ones is really strong and you really need support from your teammates to help out.''
If North Melbourne is to break into the top eight this year, Thompson will again play a major role, with Watson describing him as "absolutely critical'' to the team's success.
"You can say there is certainly other players who can come in while he
was injured and filled his role and did it quite well, but he is the All Australian full-back,'' Watson said.
"Certainly the players around him feel a lot more confident when he is there. You know what you are going to get every week.''
Source: http://www.heraldsun.com.au/sport/afl/north-melbourne-fullback-scott-thompson-wants-the-big-jobs-in-a-big-year-for-the-club/story-fni5f986-1226827475089