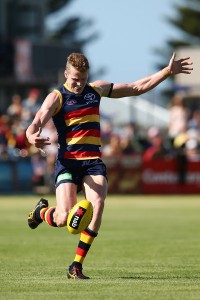 REILLY O'BRIEN is on the Adelaide Football Club's senior list, in a telling pointer the Crows will not wear down lead ruckman Sam Jacobs next season.
O'Brien, 21, was promoted from the Crows' rookie list Monday as Adelaide made seven changes to its squads – senior and rookie – on the October 31 deadline for list changes in the lead-up to the AFL national draft in Sydney on November 25.
Taking a pointer from Jacobs' late-season fade-out – either as a consequence of an ankle injury or from carrying 90 per cent of the ruck burden at West Lakes – the Crows' decision to promote O'Brien indicates senior coach Don Pyke will manage the 28-year-old Jacobs differently next season.
And rather than add more ruck work to key forward Josh Jenkins' portfolio, Pyke will have O'Brien ready to play AFL – just as he did when Jacobs missed two games with his ankle injury in August.
O'Brien's work against Brisbane and Fremantle in rounds 20 and 21 – when he had 29 and 18 hit-outs while Jacobs was recuperating from injury – highlighted Adelaide did indeed have an emerging ruckman in reserve at West Lakes and earned high praise from Pyke.
A No. 9 pick in the 2015 AFL rookie draft, O'Brien signed a two-year contract extension in August 2015 – a deal that is certain to be quickly reviewed now that he is a senior-listed player.