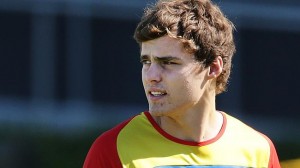 Jaeger O'Meara says Kade Kolodashnij deserves to be this year's Rising Star because the silky-skilled Tasmanian's importance to the Suns outstrips his own when he dominated last year's award.
The Suns have underlined the stakes of this week's Q Clash by leaving the door ajar for Kolodashnij and fellow defender Trent McKenzie to make shock returns for the game on Saturday at the Gabba.
Kolodashnij injured his hamstring in the Gold Coast's loss to the Bulldogs in Cairns before the bye while McKenzie was one of four casualties from the historic victory over Collingwood in Round 16.
Both were expected to miss about a month but the Suns now have fingers crossed they may be available.
Football manager Marcus Ashcroft confirmed the pair were a chance to play in the local derby and said the prospect of taking a selection gamble would be discussed at the club's weekly medical meeting this morning.
Kolodashnij, an All-Australian Under 18, has assumed a key distribution role for the Suns and his absence robs them of much of their attacking creativity.
That the 18-year-old continues to be left out of much Rising Star discussion baffles the Suns.
Former Essendon champion Matthew Lloyd, a nominee in 1996 when Eagle Ben Cousins was the winner, said
at the weekend the award would be fought out between Collingwood's Tom Langdon, Bulldog Marcus Bontempelli and Lions pair Lewis Taylor and James Aish.
But O'Meara believes Kolodashnij's debut season has been the equal of his own because he has bolstered an area where the side was lacking.
O'Meara lapped the field in the 2013 Rising Star, polling 44 of a possible 45 votes to win the Ron Evans medal by 13 points from Adelaide's Brad Crouch.
"Kade has had an outstanding season and has become a really important and influential player for us,'' he said.
"Last year we were screaming out for a running half back who used the ball well and Kade has come in and played that role like an experienced player.
"It is difficult to compare his first season to mine because we play different roles, I was lucky to come in and join a pretty talented and hardworking midfield while Kade has made a position we lacked his own.''
When the season ended last year, Guy McKenna was crystal clear the side was a rebounding half back short and he made it a recruiting priority.
List manager Scott Clayton delivered, pulling off perhaps the selection surprise of the draft when he called the Tasmanian's name with the fifth pick on draft night.
When asked by The Courier-Mail last week which player had most surprised him in 2014, McKenna ranked fellow defender Sean Lemmens as the man who has exceeded expectations.
According to everyone you ask at the Suns, they knew a few weeks into the pre-season that Kolodashnij was going to be a good player.